Hasty Takes: The Milwaukee Bucks - Should We Fear the Deer?
The Milwaukee Bucks are one of the hottest teams in the first month of the NBA season, galloping wildly out to a 10-3 start, recently snagging some impressive road wins against the Warriors and the Nuggets. I say we take a look at just exactly what the hell is going on. If you're not interested in that, get on outta here! Go on, now! GIT!
BEHOOVED BY THE SAUCE
Any hot sauce fans here? Fantastic, I thought so. Ever noticed the spout of Valentina hot sauce? There's a smaller hole just above where the hot sauce comes out, and it's there because that lets the sauce flow smoothly from the bottle. So, when you got to pick up the bottle, you don't sit have to sit there violently shaking the bottle. What's inside is liberated to come out.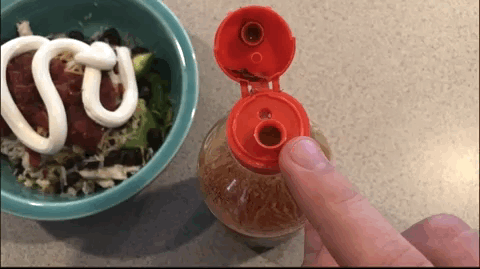 If the Milwaukee Bucks are a bottle of Valentina hot sauce, this offseason they put an extra hole in their spout, and the offense is flowing now. They did this in a couple of ways. First, they signed a forward-thinking coach in Mike Budenholzer that could ease them into a modern mindset, offensively.
There was plenty of offseason speculation about what the alliance of Bud/Giannis Antetokounmpo might hold for Milwaukee, but our ears were drawn to the haunting laughter of Kawhi and the satisfied chuckling of Celtics fans who thought that the goat guarding the bridge to the NBA Finals had finally moved on and stopped blocking their path. It does seem that, in some sense, we forgot about Milwaukee, or at the very least underestimated them.
It behooves your style, in some sense, to respond to your personnel, and if the gap between your style and your personnel is wide, it behooves you to tweak that personnel and shrink that gap. That's what the Bucks quietly did this offseason. No single move was earth-shattering, but their simple tweaks in personnel have done a great deal to let the sauce flow. It's done a ton to open up their offense.
They added Brook Lopez, the man who is always open because the rules of being open don't really apply to a seven footer who shoots above his head.
They added Ersan Ilyasova, a man who runs like an anthropomorphic circus tent covered in molasses, but is still a competent enough offensive player to sprinkle in some shooting here and there when the ball's swung to him. He also might be 50-years-old.
And they threw in Pat Connaughton and Donte DiVincenzo, two guys who are making the most out of those classic-Budenholzer back-cuts.
These are all guys that can hit open shots but don't require a high usage rate to be effective, and don't kill you with inefficiency when the ball comes their way. You can't just trot anyone out there and have them stand far apart, expecting the floor to be spaced.
When you hollow out the middle of the floor the way the Bucks have this season, you're forcing defenders to nervously watch Brogdon, Antetokounmpo and Bledsoe, a trio of physical, capable drivers, and that creates a good kind of havoc for Milwaukee. Teams that share the ball better tend to get the most effort out of their off-ball cutters, and that's going to create shots. In that sense, it's no surprise that the Bucks are playing better.
UPSWINGIN'
Look, we're purposefully overreacting to a small sample size, but the statistical swing from last season to the early goings on 2018-19 is remarkable. Some wild 2017-18 to 2018-19 changes: from 25th to 2nd in three-point attempts, from 27th to 1st overall in three-point makes, and from 14th to 2nd in team assists.
It could most certainly cool off and blow over, but the Bucks have five guys shooting over 40% from three, and it doesn't take a Richie Adubato to notice that the ball has energy out there, and these guys seem to be enjoying themselves. They're creating the highest percentage of wide open shots in the NBA.
For Khris Middleton, in my opinion one of the more underrated ISO scorers in the NBA, this has led to a shift away from a high volume of midrange attempts without seeing a big dip in scoring. He's taking fewer of those midrangers and more threes, but when Milwaukee needs a big bucket, he's still got one of the nastier middle-of-the-floor ISO bags that you rarely hear people talk about.
Defensively, remarkably, the Bucks have been just as good. Their focus has been largely on preventing easy twos around the rim, boasting the 2nd best defensive field goal percentage there. Milwaukee is very often looking to funnel pick and roll ball handlers into the midrange, where their exceptional team-length is waiting below the foul line to more often than not force a tough shot, but this approach has shown some cracks when it squares off against strong off-the-bounce shooters.
A problem that's haunted Budenholzer teams in the past is that they pick on less-equipped teams and then falter when they run up against the inevitable player and coach talent that's hanging around in the playoffs. It's what doomed the 2015 Hawks team that won 60 games, but this Bucks team is more talented than that crew.
JUST BEING GIANNIS
The arms and legs of Giannis Antetokounmpo are still haunting the dreams of opposing players and coaches.
Around the rim, players as versatile and as efficient as Giannis just don't come along very often. 71.4 percent of his shots this season have come around the rim, waaaay above the league average, and he's converting 67.5% of those attempts. He's still likely to pick up a couple charges a game, but the downhill pressure that he puts on opposing defenses leads to easy offense much more frequently than it doesn't. His assist numbers are up, and he's actually improved his rebounding too, from 10 a game a year ago to 13 this year.
If Giannis can become an above average shooter on his fallaways in the middle of the floor, I think one way we could see the Bucks become a very tough out in the playoffs this year. It's one of the more unguardable shots in basketball, and when playoff games are winding down, that type of offense from Giannis could be a real difference maker, especially when you consider how intent teams are to keep him from slithering into the lane over and over and over.
Defensively, Giannis has been just as spectacular. His length and nimbleness put him in position to make plays that other guys only dream of, and he makes it look relatively ho-hum, most of the time. He's in the 98th percentile in block percentage and in the 88th percentile in steal percentage, averaging 1.3 blocks and 1.4 steals a game this season. I love a good two-handed block.
Is this the year that Giannis nabs an MVP? It's possible, but it still feels like he's one offensive evolution away from 'maybe this guy could do it' to 'who is going to stop this guy from doing it.'

YEAR OF THE DEER?
With the west-to-east migration of some of the NBA's best two-way players and the slow start of the Celtics, it's easy to start to talk yourself into believing in these Milwaukee Bucks. Their most recent road-trip to the west coast was, for much of the national NBA audience, a sign that this thing might be for real.
They're first in the NBA in late game plus/minus, an indicator that they've learned some lessons about staying true to their identity, trusting their approach, and that they understand what it takes to win. All possible signs that a team is potentially levelling up and maturing.
They dropped a tough one to the Blazers, but came right back and slapped the silicon out of the Oracle Arena crowd by handling the Draymond-less Warriors, lost on a buzzer beater against an exciting Clippers team, and withstood a late-game surge from the Nuggets to impressively snag the win in Denver.
They're 10-3 with the best strength of schedule in the league, so you'd think this is a credible sample size. Is this fool's gold? Does Coach Bud have allergies? Why does he always look like he's maybe been crying? I'm still a little dubious that they're going to ultimately have enough to take down the Celtics, but it's certainly possible. Let me know if you agree.