My Six Biggest Takeaways from NBA Summer League 2018
Here they are, folks: my six biggest takeaways from NBA Summer League 2018. Please note that this is based only on what I saw in person.
I. IT'S MORE AN INDUSTRY EVENT THAN A TOURNAMENT
You can tell that the guys in the games want to win, but "winning the Summer League" is hardly the focus.
Sitting where we did, it was obvious that the fraternizing was pretty essential. First of all, it's in Vegas, so you can imagine that coming and visiting with rest of the NBA is an attractive idea for a party. The Finals were more or less a bust (thanks, JR) and it's the first time since the draft that there's been an in-person event. Free agency deals still looming, it's an opportunity to preview some young talent but also to touch base with everyone who's anyone in the NBA space (this is why no one spoke to me). Everyone seems to know everyone, and everyone seems to have a dap for everyone. It's very much a "scene."
 
II. FAMOUS HOOPS PEOPLE ARE ALMOST LITERALLY EVERYWHERE
I'd experienced this a bit before, but this Summer League was on another level. Whether it's Doris Burke shooting the bull with Danny Ainge, Rachel Nichols tenderly greeting Vlade, Kareem stopping by to chat with Bill Russell and then going over to sit next to Vince Carter, Zach Lowe by the concession stand hanging with some other writers, Baron Davis plopping down right next to us and never looking up from his phone, Markelle Fultz eating MegaMix Mike & Ike's one day and then chicken fingers the next with Drew Hanlen/Ben Simmons/Brett Brown, Donovan Mitchell and De'Aaron Fox cutting up courtside during Jazz-Heat – it was pretty wild to witness. A one-stop shop for NBA people watching. Woj walking by and eerily peering into the crowd. A haunting presence, that guy. Just kidding he was a fairly inconspicuous average-looking white dude.
I also saw the Red Headed guy from Shot in the Dark? Anybody ever watch that show?
There's also a funny moment where you see a player and they see that you've seen them, and they have this look like 'are you gonna do what I expect you to do?' I've prided myself on not doing that thing.
 
III. THERE ARE FOUR SPECIES OF PLAYER THERE
OLDER BROTHER GUY
Mature players just stuck out. Simple 'does he know how to play basketball' stuff jumped off the page, because teams weren't really doing much more than dribble drive and high ball screen types of stuff. It's a guard dominated event, so if you're a big guy and you don't know how or where to assert yourself, it can be a little ugly. Some older brothers of note:
1. Josh Hart
2. Justin Jackson
3. Alex Caruso
4. Tyler Dorsey
5. Wayne Selden
For a lot of guys, Summer League is an introduction to what NBA preparation/coaching/speed of the game is like, and I think the older brothers played a big role in that.
 
CLAWING FOR HIS LIFE GUY
These could be a bit sadder to witness in person, because the gravity of 'oh yeah this guy is potentially auditioning for something that could alter the future for his family.' Summer League coaches are likely juggling the idea of them being a head coach sometime in the future (or even a high-level assistant), trying to give their important young talent the opportunity to succeed while also protecting them in some instances, and also finding time to squeeze in opportunities that the team has given to guys that are trying to make an impression.
So how the hell do you manage that, if you're a young guy? Keep your cool and just play good basketball, hoping smart hoops minds will just notice? Hard to do. Lots and lots of bad contested midrange jumpers in Summer League. In all honesty, Alonzo Trier must've taken 30,000 of them. Each time he took one I bet Jerry West reacted like Voldemort when a horcrux was destroyed.


 

 


PRECIOUS ASSET GUY
Seems obvious, as these guys are the draw, but the lottery picks do get a much longer leash. The greater the investment, the more a team is going to let a guy figure it out. If Trae Young were an undrafted senior guard from Weber State, those shot attempts would've been a lot lower. He'd have been benched.
 




 

LAST CHANCE GUY
Probably less driven by hope than "Clawing for His Life Guy," because for this or that reason, their basketball life has not gone according to plan. Looking down the list of guys that played in Summer League, it was a little shocking. Some of these players probably actually were or saw themselves as PAGs (Precious Asset Guys):
1. Jarnell Stokes - I peeped his feet, still huge.
2. Rodney Purvis - At one point one of the top players in his class.
3. Marquis Teague - I saw him in 2012 when he was a PAG. Fairly enormous slide.
4. Byron Mullens?!?! - Former 1st round pick!
5. Archie Goodwin - Broke the Summer League record to scoring. Think that about covers it.
6. Cliff Alexander - No sign of his dad.
 
IV. EVERYBODY IN VEGAS WANTS TO DRIVE YOU TO A STRIP CLUB "FOR FREE"
Admit, never been to one and will probably never go, but one can only imagine what occurs when you take these guys up on their offer. To me it feels like a breaking point in a Darren Aronofsky movie, but everybody's got their thing.
 
V. THE SPEED & ATHLETICISM ARE NOTICEABLY FASTER THAN COLLEGE, IMMEDIATELY
I talk a lot about the adjustments of speed and skill as you ascend to each new level of play, and even in Summer League that was apparent. Schematically, no, the Summer League is not overly sophisticated or even hard to follow. Very little off ball action happening and only a couple teams ran sets on either end with anything resembling consistency. Length also quickly becomes an issue for guys.
The window for a penetrator to make the correct play is amazingly small, and the speed that it takes to catch those passes and finish is noticeably more difficult than in college.
 
VI. FULL DAYS OF BASKETBALL ARE FUN, BUT HOLY GOD ARE THEY TIRING
It's sort of like those days where you're constantly in the sun, and you're inexplicably feel like you worked on a railroad all day, even though you didn't do much of anything. By Thursday evening, everyone in our crew looked like Andy Dufresne after having been put in solitary confinement for a month.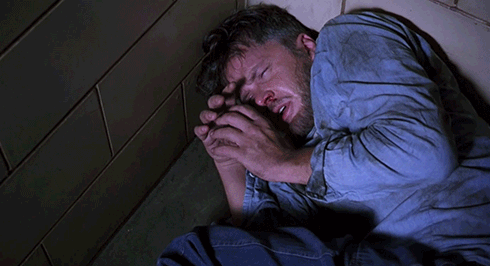 And you can't drink beer and watch five consecutive basketball games for three straight days. You just can't. I bought more coffee at those games than I've ever bought in an arena before. I was on the verge of finding someone to sell me some speed.