Killing You Stroftly: A Vernon Carey Jr. Deep Dive
I had a guilty pleasure, as a 14-year-old.
No, not that. Jesus, come on man.
My guilty pleasure was that I loved to watch the 1999 Duke team play. I VHS'd their games whenever it was possible.
Trajan Langdon with those cold emotionless eyes, bombing threes (huge surprise, he was a math major). Chris Carrawell bullying dudes into the lane and making floaters. William Avery just before he joined the basketball witness protection program. Shane Battier doing all the annoying things he did. Elton Brand owning the glass.
In particular, I really enjoyed watching the 1999 NCAA Tournament game between that Duke team and Temple. Temple had a good team that year. Lots of characters and a lot of entertaining moments. Stay with me, but at some point during that game, Clark Kellogg made up a word that I never forgot. No, not spurtability. We know that one. This one was just as good, in my opinion.
Watching Elton Brand operate near the rim, Clark described Brand's style as "strong, but soft. He kills you stroftly." I thought that was brilliant.
What he meant, more specifically, was that Brand had amazing strength and size that he could utilize inside, but he didn't just barrel into people and try to leave them in the fetal position under the basket (a la Shaq). He used his physical tools like a hammer and chisel — not like a jackhammer.
Almost 20 years later (ugh, dammit), that phrase came to mind as I watched tape of Vernon Carey, the #2 player in the class of 2019.
KILLING YOU STROFTLY
Vernon Carey Jr. is a 6'10" and 240 pound (<-- not sure I believe that) cruise-and-bruise high school junior with the body of a prototypical 1990s NBA power forward. He has a 7'0" wingspan and he's highly coordinated, physically mature and exceptionally skilled.
If you're a football fan, you probably know that Vernon is named after his pops, the former Miami Hurricane who also went on to play offensive tackle for the Miami Dolphins in the NFL.
Watching Carey the Younger gallop up and down the hardwood, that explains a lot. He's built like a grizzly bear, and with those NFL genes, no surprise: he moves extremely well for a guy his size. He's also sneakily explosive for such a big dude. Occasionally he'll do something on a break that'll make you go 'wait, what?!'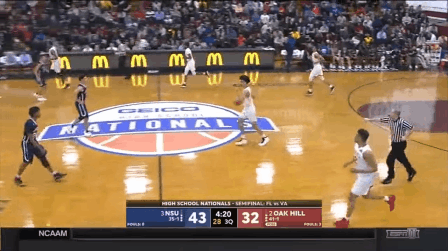 His hands are very impressive for his size, too, and he's very quick when he makes his move around the rim. He wrangles tough entry passes, snatches loose balls, taps in misses. I didn't see him losing the ball near the rim. He's got some paws.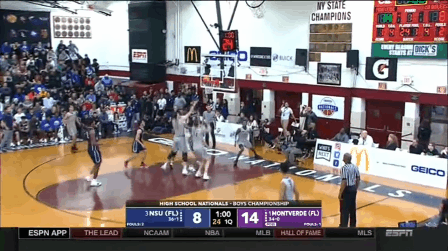 He's very coordinated and he can be deceptively quick to the ball when he's engaged on defense.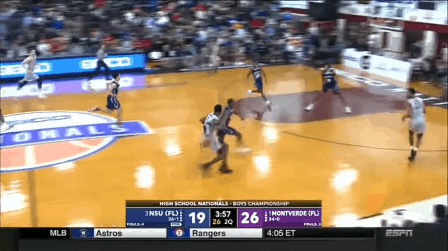 His combination of girth, touch (wow I did it again, sorry) and quickness getting off the ground give him a big advantage around the basket. Every time a guy Carey's size gets in the air, he's already claimed his space, and the first thing you have to do is to try and keep him from bowling you over entirely. If that weren't enough, his second and third jumps are surprisingly quick. This is extremely tiring for opponents on the glass.
Because of this, Vernon is one of those guys that racks up lots of nonchalant, easy buckets around the rim. You look at the box score at the end of the game and think 'wow, he had 25 points and 10 rebounds?' I do think this will translate to the college level.
A DUMP TRUCK ON ICE SKATES
So let's say you're game planning for Vernon Carey. You just need to keep him off the glass and you're probably good, right?
…eh. There's more.
Like we mentioned before: Vernon does also has a high skill level. I'd like to see him diversify his approach a bit from 15 feet and in, though. His shot-fake-drive possessions are impressive, but you just aren't going to run into many guys that want to get in front of a guy like Vernon Carey at the high school or AAU levels.
As a shooter, he's got a great base to start from, but will need to become more consistent. His shot is quicker than James Wiseman's – a guy people will inevitably measure him against. He was a 30% three point shooter in the EYBL this past year. It's pretty much set shots at this point, and I do think his tendency to have a narrow base will have to evolve for that to change.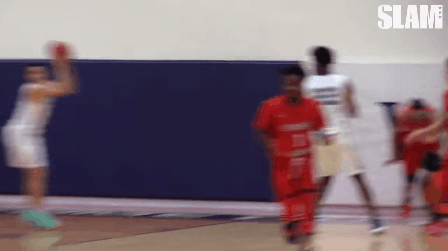 For his staying power at the college and NBA levels, I think Vernon's ability to discern which situations call for which aspects of his game will be critical. His days of shot faking from 22 feet and getting all the way to the rim may be winding down. Leaning on this at the college level would like lead to a lot of charges. It could just be a question of refining and accepting his offensive identity on the floor and tightening up those moves face-up moves a bit, because college and pro defenses are just savvier about digging out steals from big guys that expose the ball in the middle of the floor. Maybe instead of making that move for the perimeter, you face up and make it from 10-15 feet?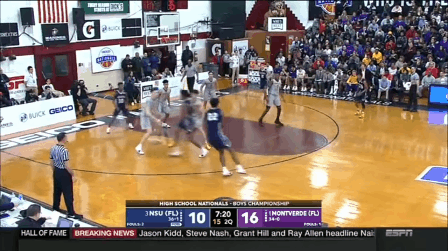 In terms of a back to the basket game – I've seen glimpses of it, but not much more than simple baby hooks or drop step dunks. The reality here being that Vernon hasn't had to do much more than that to this point.
The promising thing about Vern's game is that his hoops IQ does appear to be high, and I think improvement in those areas is very possible. I mentioned before that he scores a ton of buckets just off stick backs and transition rim-runs: imagine what Vernon's game is going to be like when his situational understanding takes a leap? It's frightening.
COMPCLOUD™️
I would put Vernon Carey's game somewhere between Caleb Swanigan and Mareese Speights. There might even be a dash of David West in there, although I do think Carey is a better leaper than any of those three guys. He also doesn't have the back to the basket repertoire that Swanigan has, and I'd like to see him grow as a midrange shooter, but his mobility and touch very much remind me of a blend of the three.
I could also see him doing the motion capture work for Thanos in the upcoming Infinity War movie.
DON'T CAREY THAT WEIGHT
Guys like Vernon all encounter the same thing, as they progress up the ranks of organized basketball: at some point it behooves them to really pay attention to their bodies. He has the frame to become an even more physically imposing guy. He's got big, wide shoulders and torso that's built like the iron slab in a piano (if you've ever moved a piano you know what I'm talking about).
Keeping the weight off and staying committed staying in tip-top shape will be an important area of focus for him, as his weight has fluctuated a bit during his amateur career. This makes you wonder about how his body will respond, should injuries ever enter the picture, as the mileage piles up.
This will impact another area of concern that I have for Vernon, going forward: defensive foot speed and footwork. He's not a plodding (maybe some mild plodding, let's be real), lumbering oaf, but something I always look for is a big guy's gait. Vernon runs and plays pretty upright, and I noticed in a lot of his footage that he has a habit of getting in a narrow stance, and that negates some of his physical advantages.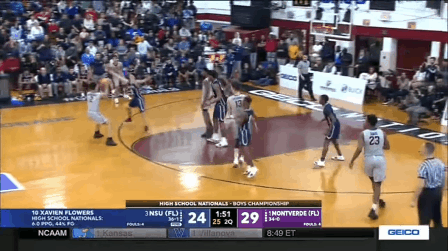 Even still, he's a pretty capable weakside shot blocker, although I don't see him as an elite one. He's behind Wiseman here.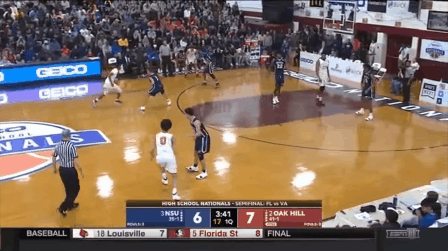 AS THE VERN TURNS
Because of the limitations of Vern's shooting prowess aside from set-shot situations, I have to wonder if he will ascend to the level of all-star or All-NBA, down the road. He strikes me as a guy that potentially could be a career starter in the league (which is pretty incredible for any basketball player to achieve, let's not be ridiculous with our standards), if he stays healthy. Can he finish consistently against the endless parade of long athletes in the NBA, though? Is his shot ever going to be consistent enough for it to be a threat? His skill set and the potential plusses he could bring to a team are just too apparent and obvious. He's a high floor, reasonably good ceiling guy.
I do, however, think Vernon will be a high-impact player in the college game, wherever he chooses to go. Let me know if you agree.
___________
@jkylemann
dimedrop.mailbag@gmail.com
https://www.youtube.com/channel/UCdf5X8hXBKnkVTfxuxkLiOQ?view_as=subscriber