Expect the Spectacular: A Closer Look at Ja Morant
Temetrius Jamel Morant–or "Ja," as you likely know him---is a 6'3", 175-pound lead guard from Dalzell, South Carolina with fluid, cat-like athleticism and a knack for creating opportunities. Every single time I say his name I think of the matchmaker lady from Mulan and say his name in that voice. Ja was very lightly recruited out of high school; he was a no-star player with only two college offers going into his senior year, and he eventually signed with Matt McMahon and the Murray State Racers.
REAL ELECTRIC FEEL
Morant's eye-popping athleticism has been the most popular aspect of his game. We've all seen the highlights over and over. But as the story goes, he didn't cleanly dunk a basketball until he was a senior in high school, so we're talking about a guy who's bloomed late, athletically.
Ja is the type of guy that you have to keep an eye on, because he can explode vertically and unleash the spectacular at any moment. He supposedly has a 6'7" wingspan and a 44-inch vertical leap. To my knowledge, we've yet to see those measurements confirmed in the combine setting, but just watching him – I believe it. Morant's first jump is very quick, and he leverages that athleticism very well around the rim with his ball control, leading me to believe that he's got reasonably big hands. I'm very pro-big hands, as some people know. Yeeeeaaah that got creepy.
With a head of steam, he can absolutely posterize guys that are slow to rotate, but Morant is a slightly built guy that would typically prefer to slither between the seams (more gross phrasing) and avoid getting obliterated, if he can. He's strong with either hand when he's finishing, and he's got great elasticity in the air.
I said cat-like in the intro, and I think that describes it as well as anything. He's an effortless athlete. He'll lie in waiting until he sees a vulnerable moment, and then explode. He contorts and wiggles through tight spaces without much issue, physically. He uses his quickness expertly, changing speeds and angles until he gets the one he wants, and then he attacks.
COMPCLOUD™
Dialing in the comparisons for Morant is a tricky thing, because he's not wholly similar to any one player. I've repeatedly heard people invoke the name of Westbrook, but I'm not as inclined to make that comparison, myself. He's not as broad shouldered and overpowering, and I don't think he has the same top-end speed as Westbrook or someone like De'Aaron Fox.
As a playmaker, he stirs reminders of the lefty/righty passing of Trae Young, but Trae is (gargantuan "duh" here) miles and miles ahead of him as a shooter and his handle is a just a tad more polished.
Offensively, I'm reminded a great deal of Rajon Rondo. Morant is a bigger guard, and he's a better and more willing shooter. He also doesn't revel in being an off-ball defensive disruptor in the way that Rajon did. But the layup making, the vertical pop in his finishes and the advanced sense of playmaking angles all stir up memories of Rondo at Kentucky and his formative years with the Celtics. People very often forget that Rondo had some serious bounce in his early to mid-20s.
These are all high outcome players, but on the spectrum of athletically gifted point guards, Morant is carving out a notch for himself. [Clip.]
PASSING WITH FLYING COLORS
It's becoming less and less of a secret, but the face-melting dunks are a distraction from the real tale of the tape: Ja is a very savvy, skilled and intelligent playmaker. He's what I call a high-bandwidth offensive player. His ball skills allow him to withstand a lot of pressure still untangle complex problems in real time. He never looks hurried with the ball. His live dribble is fluid and typically steady, although he can get a little cute at times and become a audacious with his ideas.
As a passer, Morant has well above-average command of what pass is appropriate, where it needs to land and how much velocity to put behind it. He does it all: laser hook passes through interior seams with either hand, perfectly floated skip passes to shooters, well-timed dump-offs, darts thrown between the trees in transition – he is easily the best passer in the 2019 draft.
Players get going and into their rhythm in a variety of ways. I get the sense that Morant would be totally content barely scoring; that's how much he seems to enjoy the chess game of playmaking. Most importantly though, is the fact that he seems attuned to the moments where he should take over a game and seek his own offense. I've never once gotten the sense that Ja is stubbornly waiting for his turn to score.
Morant is a competent three-level pick-and-roll player in the college game. His ability to turn turn the corner with either hand on the screener's defender and score is a tool that he is constantly threatening to use, and if he can pull that help defender out of the corner and into the lane, he will. Ja is also like Trae in the fact that he throws a lot of paint against the canvas – because he rarely sits for Murray, and almost always has the ball in his hands, his production comes with plenty of what I would consider tolerable turnovers. According to Synergy, he's operating as a pick-and-roll ball handler 30.4% of the time, and turning it over on nearly a fifth of those possessions. He's second in the country in turnovers.
To be totally honest, and this is something we'll get into more in a moment: Morant is such an advanced passer for his level of competition that he often looks bored. As much of a fan as I am of Murray's personnel (Darnell Cowart in particular), plugging Morant's vision and playmaking DNA into a system with higher quality athletes and finishers could greatly expand his offensive impact.
THE MORASS OF MORANT
Shooting is going to be a pain point in the discussion of Morant's ceiling as a player, but it could be much, much worse. Yes, his shot is strange. His shot pocket sits in front of his face, and the separation between his off hand and his shooting hand is murky. There's a lot of left hand involvement in his release, particularly with his thumb. You can also see that his elbows tend to point outward, and they seem to move at the same time, revealing that lack of separation of hands.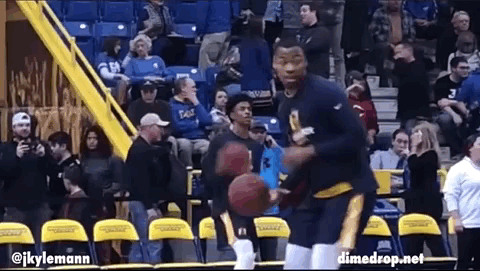 It resembles the jumpshot of some old townie dude that has played in wind-suit pants at your local park for years, and inexplicably seems to shoot 70% from three. There's one in every town in America. I digress.
Still, there are reasons for optimism. Morant's issues are not in his arms or in the way he transfers energy through his body, and although he's not at all afraid to use his jumper as a pressure release within the offense, he doesn't appear to be under the impression that he's Dame Lillard. He goes to his jumper when it's necessary, and it's not the type of shot that is so ugly that you cover your head or wear a helmet. There's flicky, soft motion in his wrist, and it's fairly mobile, bizarre as it is. He shot 34% from three this past season. For the time being, though, NBA defenses will likely beg him to take that shot, if he doesn't continue to develop it.
Ja is capable as a scorer--but despite his output--he failed to be an exceedingly efficient one in college. Morant's highest efficiency rating was simply around the rim, registering in the 58th percentile, scoring on 97 of 172 attempts. Will improved gravity and improved teammates improve the quality of his looks, and subsequently his efficiency? It's possible, but it's also possible that Morant hovers in the 'I can score, but I'm not really looking to,' identity throughout his NBA career, a la Rondo or Ricky Rubio.
Because Ja plays in the OVC, on a team that heavily depends on his production, it's difficult to know how much of his defensive effort is tangled up in how crucial an offensive player he is for Murray State. It's like watching a star player on his HS team. Morant leads the country in assists at 10 a game, and in points produced at 27.8. Taking him out of their lineup would be like taking the brain out a body. It's still a body, but it's not going anywhere.
That said, Morant on defense can often look like a semi-interested kid stuck in right field of a tee-ball game. Positionally, he will get all kinds of turned around, and wander into out-of-area situations where you wondering what he's even looking at. He gives ho-hum effort when screened. He misidentifies his assignments in transition. He is very prone to turning it on and off.



NO BLAH IN JA
Ja Morant is a gamer. He's a born competitor. In both of the games that I saw live in the OVC tournament, there were clear moments within each game where the deferring and the delegating had to stop, and Ja had exert his star power. In all of those moments, he showed up, on both sides of the ball. This alone made me wonder if he'd been sandbagging me a bit on defense. He clearly has another gear that he can shift to when it's winning time, and that was nice to see.
95% of the time, Morant is cool as a cucumber. Nothing seems to faze him. Morant's flair and joy on the floor inspire a good kind of cult of personality. His teammates burn a lot of calories away from the ball, because they know that their work will be rewarded. If you've followed this channel at all, you likely know that I love that quality in players. But does that mean Morant is a star? Can he be the brain of an NBA team?
Every draft is different. In the 2018 draft, there were seven guys that I saw as potential all-stars, and you could possibly talk me into a couple more. That's a lot. In the 2019 draft, there might be four, if things go really well? (Bookmarking this statement for when I'm proven epically wrong by Goga Bitadze.)
I don't see Ja Morant ever carrying the offensive load for a competitive NBA team. I'm not convinced that he's an all-star level player, but don't take that as a dismissal. Can he function without dominating the ball, be a defensive zero, remain a spotty shooter all at the same time and maintain a positive impact? These are the unanswerable questions, for the moment. My gut says that Morant could become a high-value player in the NBA, but it's a tenuous idea. I would be very, very surprised if Morant is a bust.
In the projected top ten, I see Morant making a lot of sense for Phoenix, Chicago, or New York. Every single one of those teams would and should take Zion if they win the lottery, but if they find themselves with the #2 pick, I wouldn't be surprised one bit to see Ja Morant be the second player to walk on to the podium on June 20th. Let me know if you agree.


Twitter: @jkylemann
YouTube: The Dime Drop
Email: dimedrop.mailbag@gmail.com