Questioning the Answer: Allen Iverson (1994-2001) Legacy Deep Dive / Player Analysis
Allen Iverson is (allegedly) a 6'0" score-first guard from Hampton, Virginia, who starred at Georgetown University for two seasons under John Thompson and then played 14 NBA seasons for a variety of teams. He's predominantly associated with the Philadelphia 76ers, the team that drafted him first overall in the 1996 NBA Draft. He was a wiry, evasive, creative scorer with an overwhelmingly explosive first step, and a fiery on-court demeanor.
A controversial character with a broad, unmistakable impact on basketball at large, Allen Iverson is undoubtedly one of the most unique and befuddling talents ever to lace them up. Today we're going to talk about the first seven years of Allen's career: from his freshman year at Georgetown until his crowning professional season of basketball with the Sixers in 2001.
COURSE CORRECTION AT GEORGETOWN
After a very publicized incident at a bowling alley, Iverson found himself in jail and eventually a reform school when he was 17 years old. Iverson's trial was pretty brilliantly documented in the ESPN film "No Crossover." If you haven't seen it, I highly recommend that you do.
From a PR perspective, Iverson to Georgetown was a good opportunity for everyone. Allen got to attempt to repair the public's perception of him under a legendary coach at a legendary program and school, and John Thompson got to swoop in during an unusual situation and snag one of the truly transcendent basketball talents of our time.
For a school that traditionally featured big men, a ball-dominant scoring guard like Iverson was a new thing. His scoring and off-the-charts speed in the open court were must-see-TV. He racked up the accolades in a short time, earning First Team All-America in his sophomore year, twice earning Big East Defensive Player of the Year and eventually establishing the record for career scoring average at 22.9 PPG.
You took the good with the bad, with Iverson. He was prone to driving without a plan, taking long, tough shots early in the shot clock, and losing sight of his surroundings once he'd penetrated. Iverson's talent was wild, oftentimes raw and bleeding beyond the margins of structured offense or defense. His talent created highlights and havoc, some of which that would've burned Twitter to the ground, had it existed.
He's remembered now as a scrappy, resourceful scorer for his size, but it's easy to forget that Allen Iverson was also a phenomenal athlete. At his size, only a truly exceptional athlete could do the things he was doing. There's a good argument to be made that with the ball in his hands, Iverson was one of the fastest players in the history of the sport. He was also a top recruit in the country in both basketball and football — something that's only happened a couple of times.
His leaping often gets forgotten, though. A two-footed leaper, Iverson did things at Georgetown that were shocking for a 6-foot guard. His athleticism and explosiveness would often just erupt in situations where you didn't even remotely see it coming. No one could stay in front of him, and in the open court, you were fouling him if he got in open space with the ball. As a Hoya, Iverson averaged nearly 9 attempts from the line per game.
1997: EXPLODING ONTO THE SCENE
Allen would go on to get drafted #1 by the Sixers: an organization that, sad to say, hadn't seen good basketball in a quite some time.
Early on, it became glaringly obvious that no one in the NBA could stay in front of Allen Iverson. For an offensively challenged roster, he was given free reign to pour it on as much as he could... and pour it on he did.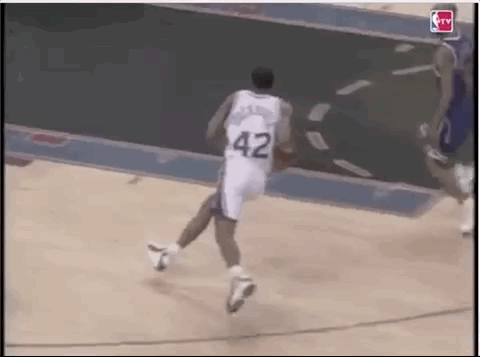 Allen was a prototypical "bucket-getter." He had the mentality a scoring wing in the body of a PG. A Bengal tiger born in the body of a lynx. His wide array of floaters, bending, dipping layups and surprisingly physical runs at the rim were infuriating for opposing defenses. Allen was likely unleashed by the openness of the NBA game, which at the time prohibited zone defense. One-on-one there was not a soul on Earth could stay in front of him, and if he could see a double team coming, he could split defenders easily. Reaching against Iverson in open space was a death sentence. You had so few chancesThere'd be a layup or there'd be a foul.
Had Iverson been 6'3" or 6'4", it's amazing to imagine what he might've been like. Extremely high usage, hard to play with, takes more shots than Kevin Hart at the Super Bowl — if only there was a comparison in today's game... ahem.
Much of Allen's offensive repertoire at this time was 'I will go faster than you, at all times, and I'll do it more frequently than you want to deal with.' His wiry strength, plus wingspan and his advanced body control in and around the lane just accentuated the frustration of containing his offense.
There were true moments of brilliance in that first season.
Stylistically, the combination of Iverson's quickness and skill made him especially hard to wrangle off the dribble. Here he gives MJ a half-taste of the move to test if he'd nibble the bait. Watch the second time he goes back to his left hand: it's not just a lateral movement to the other hand. He absorbs the momentum of the ball and brings it as far to that side of his body as he can, and it's that slight forward motion that's the most devastating. Both the ball and his left foot advance forward enough to force the defender to commit. What's amazing is that Jordan actually does a pretty great job recovering from the first move, opens his stance back up to attempt a swipe at the ball, in full loss-prevention mode he turns his body to the right to contest what looks like a left-side drive, and Iverson has already created enough space to shoot while going to the right. Now Jordan is fully behind and forced to attempt to contest. Not quick enough. Bottoms.
This was the nightmare of guarding Allen Iverson. While AI wasn't the most efficient scorer throughout his career, he basically never quit coming at you. Possibly the most uncontainable scoring ball handler the game's ever seen, Iverson's offensive approach was like electricity finding the ground: he would find a path, and he would find it quickly.
During that first season, Iverson broke the record for consecutive games of 40 points or more, scoring 50 on the Cavs in the final game of the streak. The Sixers lost every single one of those games, but hey, it was a good time! In an absolutely loaded draft class that included Ray Allen, Kobe Bryant, Steve Nash, and Antoine Walker among others, Iverson won Rookie of the Year in convincing fashion.
COMPCLOUD™️
Air Jordan 11 – Concord – How many things are cooler than AI wearing that Georgetown uniform and rocking the most iconic basketball shoe of all time? Survey saaaaaays 'zero.'
Reebok Question – Iverson's rookie shoe was his most memorable. They were also super comfortable to hoop in — I had a pair. One of the best debut shoes of all time.
Reebok Answer – The summer of 1998, I swear to God everybody at hoops camp had these shoes. Iverson was quickly becoming one of the most popular young players on planet Earth not-named-Jordan.
This commercial kills me, because Reebok really banked on this Spencer guy, who I remember at the time thinking 'why is the dad from Camp Nowhere in this commercial?' and then for him to open up with 'and I was just catching up with the crossover.' My guy — no. You were not. Reebok always seemed overly giddy to be associated with Iverson. Maybe be a bit less available, fellas. Also, if you did this move anywhere near organized basketball, you were getting ripped, although I admit doing it in the driveway a lot.
Reebok Answer 2 – Slick, simple... decent.
Reebok Answer 3 – My least favorite of the group by far.
Reebok Answer 4 – These'll always be associated with stepping over Ty Lue. Also: dude didn't even have them laced up! Made an all-timer play like that and didn't even have his shoes tied. That might sum up Allen Iverson in a single example.
1998-1999: TOUGHER TIMES IN THE CITY OF BROTHERLY LOVE
Iverson and Jerry Stackhouse were two of the more exciting college players of their time, but they didn't really work together in reality. Both guys thrived on taking a high volume of shots and dominating the ball (they'd rank 1 and 2 in usage, shot attempts, missed shots and a bunch of bad stats just a few years later), so their ability to co-exist was shown to be busted pretty quickly. Stack was traded in the offseason for pieces that would later prove to be important, and the Sixers got the opportunity they needed to land a wing that wouldn't clash with AI or need the ball as often. This looks like a job for… JIMMY JACKSON! That's like saying "I'm tired of of this douchey music. Put on some Florida-Georgia Line!" (Jackson was traded midseason.)
1998 also marked the entrance of Larry Brown. A super popular guy among players! Year one saw Philly go 31-51, improving their rating on the defensive side of the ball (from 26th to 18th) and slowing their pace a bit to embrace a new style of basketball, but still missing the playoffs. It'd be the last time until 2004.
As potent as Iverson was off the dribble, he was becoming more and more of a problem as a shooter, too. Iverson had always been a capable and marginal shooter, though he was notoriously streaky. His mechanics were quick but imperfect, and he was a threat to get his shot off going either direction and even stepping back. Shooting off-the-dribble would go on to become just as lethal a weapon as his drives. He also got great elevation on his jumper with a reasonably high release point, which was a necessity for a guy his size.
For all his talents, Iverson was always the type of guy that struggled to blend in schematically. This continued throughout his career, gradually becoming more and more of a threat to his longevity. He had a stubborn offensive approach and presented some tricky defensive deficiencies as trade-offs — limited switchability, an inability to keep stronger defenders out of the lane and many times full-on disengagement on defense. Too frequently he surrendered great amounts of space to ball handlers instead of pressuring or denying. His conditioning and weight training really didn't help in this way. He spent his entire career as one of the smallest, lightest guys in the league, and it's interesting to imagine what he might've done had he really taken this part of his career seriously.
Any team patient enough to work Allen in off-ball screen actions stood a good chance of getting an easy look. His weight caused him to be a liability fighting through those actions. You can see Utah here, an experienced team, pick on him and challenge his awareness.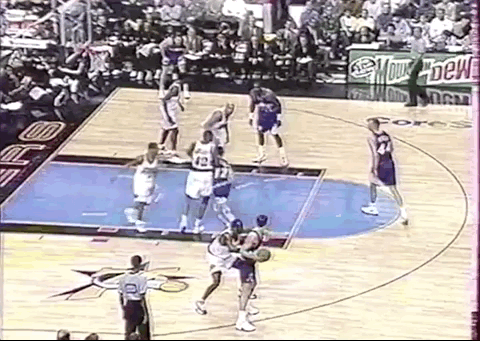 For Iverson to be effective in a team-defense setting, he had to be surrounded with strong positional defenders that would allow him do what he did best: create havoc by freelancing in the open floor.
High school coaches who watched Iverson play football thought that Allen had the potential to be an NFL-level kick returner or secondary athlete, so it's no surprise that he went essentially his entire hoops career as a home-run defensive player.
He also continued to struggle with over-penetration and involving in his teammates. This aspect of Allen's game is intriguing, because it does make you wonder how his career would've been different, had he been a more balanced playmaker/scorer. Those angles that he so skillfully traversed to create scoring opportunities could've easily been utilized for setting up his teammates, especially when you consider the fact that he possessed those skills. Loved the full-court baseball style pass. Instead, we often got Allen exploring a driving lane to its furthest extent and then make a last-resort pass to a nearby teammate who was likely standing still (because they were watching Iverson dribble). An offensive approach that was about as fluid as a large intestine full of gouda cheese.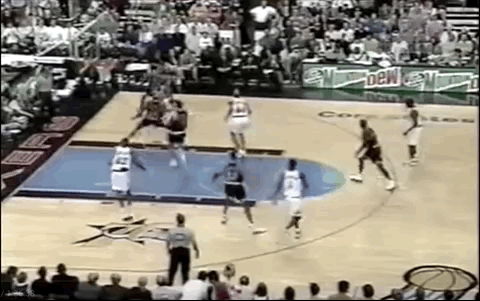 Iverson had a particularly bad tendency to take on multiple defenders that only gradually improved throughout his career. Was highly susceptible to macho competitions of 'me vs. you/y'all.' You could make the argument that Allen's tendency to undervalue his teammates was warranted, seeing as even his most successful Philly teams were pretty lacking in offensive talent.
His offense, though, continued to become one of the more unanswerable quandaries in the league. He was scoring on and off the ball, often from a corner double-screen action where his twitch quickness made you pick your poison.
By 1999, the Sixers were on a good track, finishing 28-22 during the lockout year and sliding into the playoffs, where they'd eliminate the Magic 3-1 and then get swept by the Pacers. The stage was set for some entertaining years of Sixers basketball, and Brown's philosophy — as much as he and Iverson warred against one another in the media and elsewhere — had begun to bring the right kind of personnel to make the team competitive.
2000-2001: A GLIMPSE AT THE TOP
Key pieces in place, the trend of improvement continued for Iverson and company in 2000, as they leveled-up their totals in blocks, rebounds, steals and assists, and those increases showed up in the win column. They improved to 3rd in the Atlantic, going 49-33 in a nearly bone-dry Eastern conference. They'd blitz the Hornets in the first round, 3-1, and then again fall to the Pacers — Larry Brown's former team. Allen's production and approach would be the inverse to the makeup of the pieces around him, and that might explain why the setup worked so well. He'd continue to be the focal point and driving force for the team, as he'd average 28.4 points, 4.7 assists, 2.1 steals and improve his percentage from three to 34%.
2001 was the defining year and the pinnacle of Allen Iverson's career. He'd win his only MVP award, secure first team All-NBA, lead the league in scoring, steals and usage, and log a PER of 24.0 (7th in the league), with a win share of 11.8. We talked about the difficulty of building a roster around a player like Iverson, and it seemed like the Sixers had finally done it: they finished 56-26, winning their first 10 games and finishing first in the Atlantic. It was a team designed to hide Iverson's weaknesses and set the stage for his strengths. They surrounded him with gritty ensemble guys like Aaron McKie, Eric Snow, Matt Geiger and Theo Ratliff (who'd get injured in February and replaced later by Dikembe Mutombo's nearly lifeless body).
It was a stronger supporting cast, but Larry Brown still repeatedly said that the team needed Iverson to shoot in the volume that he did.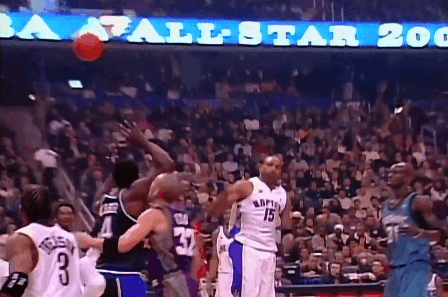 Iverson also shined in one of the more memorable All-Star games of all-time, where the East knocked off an insanely stacked West squad. All-Star games aside, the stars were aligning for the Sixers to make their most competent playoff bid in years — until they weren't. In February, Theo Ratliff went down with a wrist injury that would put the pressure on the organization to make a move and seize their window at a title, so they shipped their dominant shot-blocker to Atlanta for Dikembe Mutombo. Mutombo had just enough good basketball left to be a difference maker.
Those playoffs gave us memorable battles between Iverson and prime Vince Carter, Iverson and Ray Allen, and Iverson and the legendary Shaq/Kobe Lakers at full strength. Banged up, undermanned and ultimately outgunned, the Sixers threw possibly the only haymaker they had left, and eeked out one legendary win against the Lakers on the road in game one of the NBA Finals. It'd be Iverson's only trip to that stage, and it gave us one of the best game ones ever and one of the more iconic visuals in recent memory. I'm sure Ty Lue loves being asked about this play every 20 minutes. His barista probably brought it up this morning.
In terms of contributing to winning basketball, it'd be the top of the mountain, for Iverson. A defensive minded team that allowed him to play to his strengths, and an offensively deferential group of players that fed off of Iverson's relentless thirst to score. It came from all angles, as he scored 30 or more in 14 of their 22 playoff games, at least 40 in five of those, and broke 50 on two occasions. It was as close to peak Iverson as we would ever see.
QUESTIONING THE ANSWER
You could argue that Allen Iverson's story is, in some ways, a tragic one. It walked a tightrope between the two primary elements of his life: spectacular God-given athletic gifts, and an environment that fostered his iron-willed dependence on those gifts. At best, he's a fiery competitor who lived and played with a defiant edge. At worst, he's an unwilling teammate that rarely made his teammates better and discounted huge portions of the game.
Still, context matters. It's no secret that a lot of Allen's childhood was troubled and spent wandering the street, lacking real structure or supervision. He was born to a teenage mother, his father never around, and his stepfather ushered off to prison when Allen was still a young kid. Poor, looking for something that he could count on, his talent would become the most dependable thing in his life, for a long time. It rescued him from poverty. Even before the NBA, it funneled him to better living conditions. It likely played a part in him getting second chances with the state of Virginia and then later with John Thompson. It brought his family out of the projects. It made him special, to nearly everyone.
At the time, Allen likely didn't see it precisely that way. He (rightfully) just thought that he was the best at what he did, and he didn't really even have to work at it. It was always just there. It was what he deserved. He'd likely never met anyone that could look him in the eye. No one that could keep him from being himself on the court.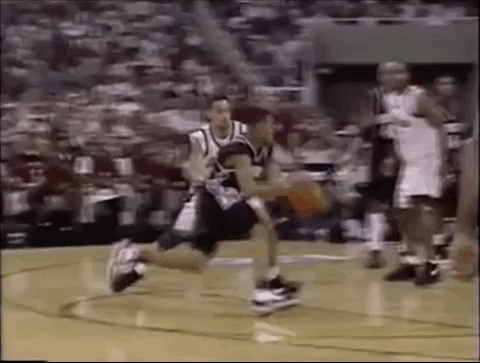 His career was like one of his forays to the basket: a few electrifying moves off the dribble and then a spectacular finish... that is, until someone was there to stop it. That is, until those physical blessings could no longer save the day. The deux ex machina fails to appear and the curtains close, leaving him to stew as Allen Iverson, the person. No longer the born superhero. Now just a guy... a guy who used to be great at a game.
But his impact in and beyond basketball was incalculable. His brash persona clashed with teammates, famously ruffled feathers in the media, put him at odds with coaches, and spoke sharply against the idea that anyone could affect how he behaved. He was boldly, unabashedly, and unapologetically proud to be a young black man, and that had a huge impact on an entire generation of young black men who wanted to do the same. In the same way that I am an embodiment of a bluegrass cover of a Radiohead song, Allen was the walking, talking, living embodiment of hip hop. That idea didn't go without resistance.
Refs famously hated him. The league instituted a dress code to stifle the fashion movement he'd stirred. Ball handling was officiated differently.
He was a trendsetter. The cornrows, arm sleeves, the full embrace of tattoos, the headbands... Allen's on-court flair was infectious. For a time, everybody was rocking headbands. Scrawny white kids at the Y ran to their bags to get their arm sleeve. "What does that do?" someone would always tease. A smirk and a half response.
Everyone knew the answer: it made them feel like Allen Iverson, something most every kid in America and around the basketball world wanted to feel.
That unwillingness to bend would rear its head on the court, too. In his days at Bethel High School, at Georgetown and in his early days with the Sixers — of course. Why bend? Why blend in? Why pass? Why train? Who can do it better than me? The talent will save the day. It always has. He never wavered from that. He refused to take a backseat to anyone. He refused to support the team in any way than as it's dominant star player. But that talent that he relied on would became less reliable. Reliability became delusion, and delusion became toxicity.
Iverson's talent burned so brilliantly for so many years, and in that willful, stubborn, relentless and physically resilient frame, it was one of those most remarkable forces in the history of the NBA. Any angle, any shot, any city, any night — Allen Iverson was going to get his, and with that shameless showmanship that he was famous for. In that era, in that parentheses of basketball history, you could be certain of that.
Twitter: @jkylemann
YouTube: The Dime Drop
Email: dimedrop.mailbag@gmail.com