Decoding the Dazzling Gifts of Darius Garland
Darius Garland is a creative, thrilling 6-2, and 175-pound guard originally from Gary, Indiana. He spent a short season of college basketball at Vanderbilt for Bryce Drew, the man who always looks like he's getting ready to take an offering, hold the hands of an older lady, thank her for her green bean casserole and pray. Might be a good career path for him now that's he's been fired. I KID! (I've been fired, I get it.)
Darius is the son of Winston Garland, a bucket-getter himself, who spent eight seasons in the NBA with a variety of teams, from 1987 to 1995. Garland the Younger is a painter with the basketball, but he's somewhat of a mystery, having suffered a season-ending meniscal injury to his left knee after only five games.
Garland came onto the greater NBA Draft radar after the 2018 Nike Hoops Summit game, where he showed off a dazzling ability to shoot the ball. Has he improved since then? Is he offensively malleable across the landscape of the NBA? Is Stephen Root the funniest damn dude of all time? Let's discuss.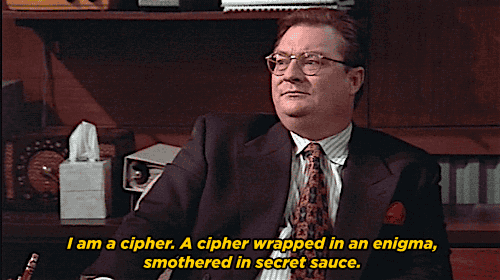 THE PISTOL FROM BRENTWOOD
The NBA game is wider and faster than ever. We've seen this. The teams that have embraced this movement effectively are made up of several dynamic offensive pieces. More specifically, the most devastating offensive weapons in the modern NBA are high-efficiency live-dribble shooters, because of the gravity they demand and the difficult choices that ripple throughout any given sequence. It's one of the most skill-demanding aspects of basketball, for obvious reasons. To be mobile and accurate from a distance is a tricky thing to do, and the folks that are doing that the best are, simply put, the best.
Darius Garland fits this basic mold. He's fantastic as a live-dribble shooter, he's consistent shooting off the catch, and he's money coming off of screens with extensive range. There are instances of him, without a gathering step, shooting the ball from around 27-feet with virtually no problem. If you bother his first look, Garland's technique and quickness when relocating as a shooter are also very good, and he doesn't seem to have a directional preference.
Darius shoots an effortless ball that has beautiful touch and spin, and if you watch the way his shots come at the rim, they often look good even when he misses. You see this a lot from great shooters, and that is all in the softness of the wrist. Danny Green, the man with the most beautiful misses in the world, comes to mind. That ball just always has a chance to go in.
I always refer to Garland as "a pistol." His shot is exceptionally quick and always threatening to pop off. He's a bit like Trae Young in the fact that he brings the ball a tad below his waist as he's loading up into his shot pocket, which makes me think that this quick release could get even quicker if he started his motion higher, sort of in the way that someone like Steph Curry does.
Along with Cam Johnson, Tyler Herro, Dylan Windler and Ty Jerome, I think that Garland is one of the best shooters in this draft, and I would say that he's the most effective on the move. In a small college sample, he went 11-for-23 from three for 48%.
His ability to utilize his great touch in every situation is still a work in progress, but against lower competition at Brentwood and even at times at Vanderbilt, Garland's isolation sequences were electrifying. The speed of his lateral movement with the ball is incredible; it's the type of dribble quickness that makes your ankles hurt, just watching.
THE WORK TO BE DONE
Although Garland's quickness with the ball in space is impressive and his lightning fast release is just a joy to watch, Darius is not a remarkable athlete in terms of size or measurements. This isn't the worst thing in the world, but it gives a player very little to lean on in terms of tools and puts pressure on them to avoid being wasteful offensive players, and defensively it calls for them to be mentally and positionally sound.
On defense, I expect it to be a bit of a struggle early on and possibly throughout. He's not much of a disruptor on or off the ball, his instincts in terms of anticipation are average, and I don't expect him to be a switchable piece for whoever drafts him. At least in the short-term, I could see Garland getting picked on by opposing offenses because of these things and his proclivity for ball-watching.
He also doesn't have a plus wingspan or great size, so corrective defensive ability is off the table. Recovery will depend solely on his feet, and even though that's an improvable area, he more or less has no choice but to become a great communicator and a positionally solid player. You're going to be able to nitpick individual plays where he took a terrible approach or got totally lost, because there were plenty. Since teams desperately want to create open looks from three, stopping the ball is hugely critical for players in Darius Garland's role. Penetration leads to rotation and rotation leads to easy looks. They're interconnected.
It's not a hopeless cause, but Garland will have to do some work to avoid being a defensive minus. I would be surprised if he's ever a major plus on that side of the ball, but physicality aside, I'd say that Garland is more of an immature defender than an incapable one. There's a difference between lack of ability and simply being misguided. I'd much rather direct energy and effort that exists than try to motivate or create it where it doesn't. It hardly predicts success, but his attentiveness and energy on and off the ball is fine, and I generally got the feeling that he was battling and making an effort.
WHERE THE PATHS DIVERGE

Garland claims to be a pass-first point guard, but I don't think that this aspect of the game comes as naturally to him. Some point guards are like acupuncturists, or that guy that played the big organ from the Interstellar soundtrack. The flow of the game is like a complex instrument that they can instinctively prod, manipulate and play. In this sense, Garland can often feel stilted and out of rhythm.
You could easily fire back and say "hey doofus, Vanderbilt was a freshman-heavy team, that explains their clunky halfcourt chemistry.' That contributed, but these things were happening for Garland in high school as well.
Garland's often holding the ball a second too long, over-penetrating with the assumption that he can score and being left with nowhere to go, throwing simple passes a bit off the mark in what should be an advantage situation or just flat-out missing something easy. My guess is that each of these errors are a result of him preferring to score in any given situation. For a player of Garland's size, this stuff really matters, because separation evaporates when you can't quite identify or execute the right play at the right time. His real-time, situational feel seems to be a bit off.
He at times can seem like he's surprised at how capable the defenders are, whereas in the past he could just cook inferior players off the dribble and get his own offense. This is totally normal for young point guards, but I think it could be a part of Garland getting acclimated to this level of competition.
In his five games at Vanderbilt, Synergy recorded 41 possessions (over 52% of the time) where Darius worked out of the pick-and-roll, and despite those playmaking struggles, he still finished in the 92nd percentile, scoring a point per possession.
I don't necessarily see this so much as a terminal illness that will damn his career, but more as a pain point in his development. This will be the diverging path between him being a second unit offensive tool and a guy that can take the reins of an offense and potentially become a big-time contributor. Way crazier things have happened, but I lean more towards the former than the latter.
Garland's shooting as a pick-and-roll ball handler is already so effective that he's seeing hard hedges and traps a large majority of the time. That's gravity that can and should be flipped into 4-on-3 or 3-on-2 advantages for whoever he plays with, but if those advancing passes aren't made, it's a waste. Gravity and aggressiveness from the defense are the ultimate respect for an offensive player, and the more that Darius learns to become crafty and patient in the pick-and-roll and off the ball, the more devastating he can become. We did not get to see him get those learning reps in full in college, which makes me think that the early goings of his NBA career could be ugly, in this sense. In five college games, Garland turned the ball over 15 times and assisted only 13 times.
COMPCLOUD

Since not everyone watches college basketball (you know who you are), you often hear comps that serve as elevator pitches, and those comps can sometimes hang around, whether they make sense or not. Kyrie Irving has been a popular one for Darius Garland, and while I see how people got there, I don't really agree. Alright, I'm being nice, I don't agree at all. I think it's ridiculous.
First of all, let me just clear about something: Kyrie might be the most creative and versatile off-the-bounce pure scorer of all time. His contemporaries are virtually non-existent. It's like, Allen Iverson, Tiny Archibald … those are a couple of the guys in this echelon of players that are under 6-3, mostly isolation-focused scorers with some blend of playmaking instinct mixed in there. There's a reason why there's only one score-first PG in the top 25 scorers of all time (Iverson). It ain't normal.
Kyrie is a guy that gets really low with his dribble and navigates tight spaces well, and as finishers, I don't think these two guys are on the same planet. Irving is a master of shots with angular english and floaters in traffic. Garland can hit some of these shots, but he is not as ambidextrous as Kyrie, and where layup making is a strength for Uncle Drew, I wouldn't say that it is for Nephew Darius. Kyrie might be the best layup maker ever to play. Garland often seems to lack confidence finishing with his left hand, and once Garland enters traffic, he tends to not come out the other side.
This makes me think that Darius is more in the mold of a Jason Terry or someone like Jamal Murray. To me he's more in the template of guards who lean on excellent shot mobility but aren't big-time finishers, playmakers or vertically explosive. I've been guilty of it many times myself, but to attach someone like Kyrie to Darius Garland is to create unfair expectations, both to the player and to the fans.
COULD GARLAND COME UP ROSES?

Like 2018, you've got three options at point guard, and each guy offers something different. I would pick Shai Gilgeous-Alexander and Trae Young over all three of these PGs, but whaddyagonnado? Coby White is probably the most physical downhill driver and defender, Garland is by far the best shooter, and Ja Morant is the best passer, pick-and-roll player and the most explosive athlete.
There's a lot of joy and flair and energy to Darius Garland's game, and he's obviously very fun to watch. He's bubbling with confidence, and he has an engaged energy that does seem like it could be guided in the right direction. Those surface-level traits can be enticing. But is he the focal point of an NBA team? I'm not so sure that he is.
At the same time, I think that Darius' offensive talent is too great for him to totally fail. My gut tells me that me he's the kind of guy that will stick around in the league for for a long time as a rotation-level player, and have stints as a starter in the right situations. His feel, size, finishing and defensive challenges will be the swing variables that dictate whether he can ascend beyond that. Let me know if you agree.
Twitter: @jkylemann
YouTube: The Dime Drop
Email: dimedrop.mailbag@gmail.com