NOTEBOOK: Recapping the 2018 Nike Hoops Summit (WITH GIFs!)
People talk a lot about this game as if it means something — I guess?
I mean, it's not exactly a standard FIBA event: the best prospects from around the world get to form an all-star team and play the US, and the game is close every year? All it really does is give us an idea of where the US is from year to year.
This year the USA squad was a little shorthanded without Romeo, Zion Williamson and Keldon Johnson. Johnson is one of the more driven, competitive guys in the class, and Zion would've surely been competitive on the glass.
Is anybody else disappointed that we didn't really get to see Zion at all during this all-star circuit? The biggest star in the class and really all we got to drink in was a dunk contest where he – amazingly – had dead legs. Dead legs and he still did that. Just saying, I was looking to form a better opinion about Zion in an organized setting, in some up and down action against good competition. People forget that Zion didn't even play in the U19 tournament last summer (that RJ Barrett also happened to dominate).
GUYS WHO HELPED THEMSELVES
RJ BARRETT
It probably goes without saying, but once RJ settled in and took the edge off a bit, he completely dominated this game on both ends of the floor. RJ forced it a little bit in the early going, but once the nerves wore off he was all over the floor, getting up and down, defending.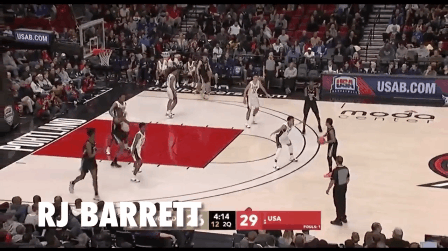 He's probably going be the best player in college basketball next year?
Is Barrett a more advanced version of Andre Iguodala? His physical tools definitely are reminiscent. He's got an Iggy meets shades of Ben Simmons meets a tinge-of-LeBron thing going on, and he shoots it a little better than Iggy at the same stage. I don't get the Harden comparison for Barrett. That's some lazy comparing.
Barrett is just an animal on the glass, and you can tell that this guy is looking to murder people. He'll be an exceptional rebounder at his position and if he's playing with guys that can finish, he's going to be very, very difficult to reconcile in your game plan. He doesn't need the offense to be designed around him to dominate a game, and that is something you rarely, rarely see in guys his age.
One concern I have about Duke in the coming season: I think people are just going to zone the shit out of them. Reddish, Barrett and Zion are all going to play the lion's share of the minutes, and I would be surprised if those guys cumulatively averaged over 35% from three next year. I'd take the under on that.
JOSH GREEN
Green was fantastic in this game, and he fed off the playmaking abilities of Barrett extremely well. He hit the three with some consistency, showed solid mechanics and overall just looked like one of the better guards in the game. He, Darius Garland and Grimes I think were the three most impressive backcourt guys in the game. I expect this kid to show up again soon on the national radar.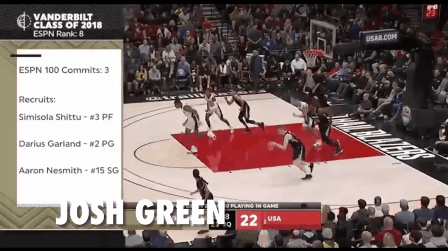 BOL BOL
Bol showed some promise as a shot blocker in this game, but still struggled with making basic one on one moves with his defender at his back. I worry about Bol for a few reasons.
1) His footspeed. I elaborate on this in the video recap, but Bol gets beaten a ton in transition. He's just not able to shift his weight quickly enough to get back and make plays. Most of his blocks are of the 'oh you're just going to try and shoot over me?' variety. You don't see him moving his feet and getting into position hardly at all, ever.
2) His core strength. This can improve obviously, but the weight distribution when you're as tall, as long and as thin as Bol is always going to be an issue against quicker and more solidly built athletes. Bol couldn't move Charles Bassey more or less at all. He had a really hard time keeping his feet wide so that he could make a strong move, and repeatedly ended up in compromised positions as he tried to take a shot. He squared up for a few midrange jumpers, but is that really what you want Bol on the floor for?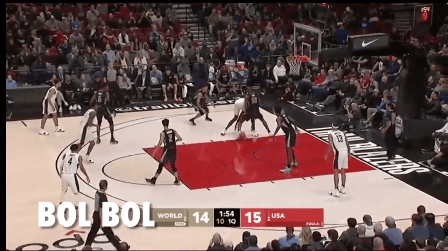 3) Rebounding. Part of this is effort (he swore that he took the criticisms about playing hard to heart), but part of it is, again – footspeed. His man repeatedly got around him and beat him to the ball, negating that insane length.
As a rim protector he showed some promise, and he did have this moment, that was jaw-dropping: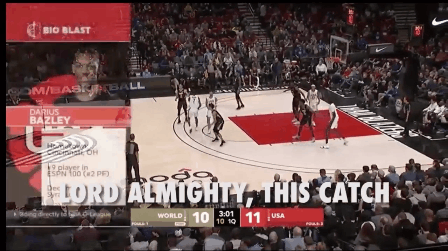 I think the jury is out on Bol. I'm starting to wonder if he's a guy that is in the NBA but rarely heard from. So many question marks.
DARIUS GARLAND
Garland also showed some real flashes of brilliance. Off the bounce, shooting and getting to the rim, he was a lone bright spot for the US consistently, throughout the game. His shot release is impressively quick.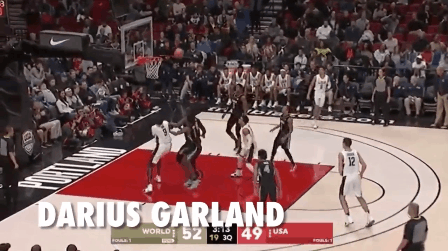 I think if they were to snag Romeo Langford, you've got probably the most talented one-two punch (on paper) in the history of the school. It sounds as if that is becoming less and less likely, though, because Langford has scheduled his announcement at his high school, and it's open to the public. Hard to see him picking an out of state school in that scenario.
At any rate, I could see Garland as a potential conference-leading scorer next year in the SEC. He has the ball on a string and he has a lot of very-much-apparent toughness.
QUENTIN GRIMES
Grimes did what he typically does: he made shots and he impacted the game in an efficient way. He's got the size to be a combo guard in the league, and he reminds me a bit of Josh Hart or Deron Williams. He plays with physicality and can put guys on his hip and score. High basketball IQ and does a lot of things well.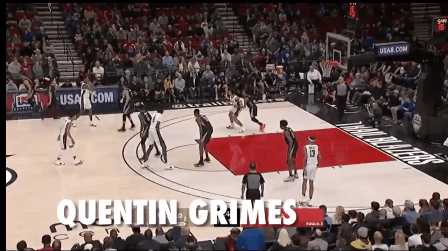 QUESTION MARKS & SHOULDER SHRUGS
CAM REDDISH
Reddish struggled throughout this game, to the point where I was wondering what was up. He didn't get a ton of shots up, and didn't really seem all that involved in the game. There were a couple of moments where he was clearly trying to get it going, but wasn't feeling it, from what I could tell. He just couldn't buy a bucket.
DARIUS BAZLEY
Bazley's decision to voluntarily go to the G-League was a bizarre one. It makes you wonder if there's something else going on. It's likely that he wouldn't even have been a star in the ACC next year at Syracuse, and his impact in this game was… minimal? That'd be putting it mildly. He's a good athlete and he has the size to be an impact player at the college level within the next year to year and a half, but he's in for a rough go of it if he's expecting to play in the NBA any time soon.
ALSO PLAYED WELL: Charles Bassey, Iznas Brazdeikis, Leandro Bolmaro.