Let's Overreact to Zion Williamson's First Game
Well, it finally happened: we saw Zion Williamson in a Duke uniform. A year ago, if I'd said the words 'Zion Williamson in a Duke uniform,' it would've been as a joke about signs of the end times.
To be so famous at such a young age and to already be lauded as one of the most explosive, unthinkably athletic humans ever to pick up a basketball, we really did not have a ton to go on in terms of real dissectible hoops action from this kid.
A lot of his organized action leading up to his imminent college career was footage of him dominating guys that looked like my high school team (which is to say schlubby, unathletic, and small) and AAU games where he seemed to constantly be in transition. It was hard to gauge.
Against Ryerson of Canada, we'd finally get a glimpse of High-Flyin' Zion in some structure. Granted, the competition was not great. Granted, Duke is missing a couple key guys in Cam Reddish and Tre Jones, which should have some impact on Duke's spacing. Both Reddish and Jones are capable shooters and off the bounce creators, so the context of what Zion does will look a little different when Duke tips off the regular season on November 6th in Indianapolis against Kentucky.
Anyway, let's overreact a little bit. C'mon, it'll be fun.
HEAPIN' HELPIN' OF LEAPIN'
If you didn't get to see the game, let's be blunt, up front (you're welcome for that rhyme) — Zion was every bit as spectacular as expected. The dunks: sure. You've been living on an Amish settlement for four years if you were surprised by that. Zion is a Humvee with a McLaren engine dropped in.
In this game we saw more than one instance of Zion taking two-ish steps and doing things that other human beings just cannot do. This play in particular was astonishing, because he doesn't even appear to be running all that hard.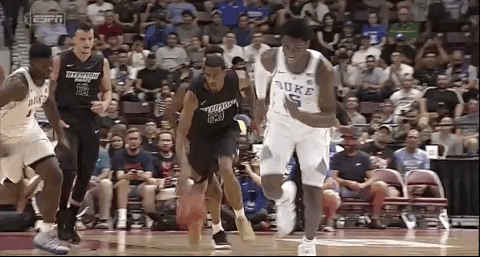 In some ways his what-the-hell-did-I-just-see explosiveness takes me back to another Duke guy that people forget about, a guy that could send hoop-heads reeling: Corey Maggette.
Jay Bilas must've been thinking the same thing, because he brought it up during the broadcast. More importantly, this game revealed something that I had suspected before I even watched this game: Zion could be the the most effective rebounder in college basketball this season, if he wants to be.
His athleticism and build are just so unusual. In a way his gait reminds me of Jaylen Brown in that he has this developed, thick body and quick twitch athleticism that seems to come without that typical fluidity and grace that you see from the game's greatest leapers. There's just no real precedent for Zion. He grabbed a few out-of-area rebounds (granted, Ryerson was horrendous about blocking out) that were cover-your-mouth moments. He's going to be able to keep possessions alive just with that ability to get to balls that others can't.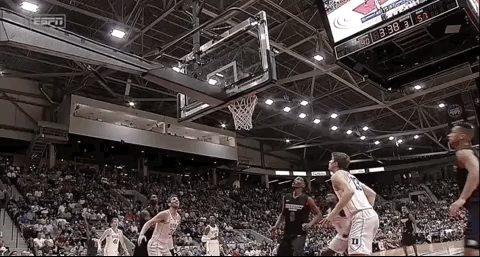 Zion's abnormal body control, ability to gracefully contort and wiggle through defenders while in the air was on full display. He's got enough lift to jump, glide and dunk under a defender and still make it to the rim. You can see that he loves to do this on either side, although he seems to always use his left hand. This guy is bored while he's in the air. He actually cocks the ball back after he catches this ball. That's some Gerald Green/Blake Griffin/Vince Carter/Dominique Wilkins/literal-rarified-air-level shit.
He even cocked the ball back when he took off from the free throw line, which is the real reason why that play was so impressive. Plenty of guys can go from the free throw line, but lots of those guys are reaching forward or at least holding the ball at like one or two o'clock. Zion did the LeBron-style cup and cock-back. I've successfully said 'cock-back' in this video more times than Theon Greyjoy's subconscious.
TO THRIVE AT FIVE
Dunks are nice. They're exciting. Hooray for the marvels of the physical human construct and all that bullshit. Most importantly for Duke is the fact that Zion's nimbleness, off-the-charts one and two-step jumping ability mean that they are well within their right mind to play Zion at the five, and this is something that I sorely want to see them do.
This is makes sense to me for a few reasons.
First of all, Zion's ball skills and playmaking ability are more promising and potentially dangerous on offense than I'd originally forecasted. It gives Duke another ball handler on the floor, which in turn gives them more spacing, which in turn give guys like Cam Reddish and RJ Barrett more space to attack their man or attack switches.
Second, it takes their under-skilled guys off the floor. Bolden seems like one of the more mis-scouted guys in a while, and it's possible that he becomes a competent rebounder and threat to score from eight feet away and closer, but his negatives are just too great if you consider what they could be swapped for by putting Zion at the five.
It also allows Duke to get another shooter on the floor, which for me is an oft-expressed concern about their upcoming season. I still think teams zone Duke all year, however.
Third, it makes Duke's cumulative mobility as a unit supremely fast and versatile. Anyone in a Jones/Reddish/Barrett/Zion can get it off the rim and get in transition, and that fifth guy could be an extra spacer. I'd go with O'Connell.
Lastly, Zion is the best rim protector on the roster, and he'll likely be the best transition shot blocker in the country this year. He gets up so quickly and closes out on the ball so violently that I'm almost concerned. Like, there's a point where his safety seems in jeopardy. I really hope the kid stays healthy. In terms of rotationally knowing where he should be and positionally guarding the ball, he's in about the same boat as every incoming college freshman — that is, learning a lot about effort and footwork early on — but his motor isn't in question, and it'll be a shock to me if he struggles in that sense. Also showed some good signs closing out on shooters.
SCRUTINIZED SHOOTING
The biggest and most valid concern about Zion is the shooting, and it'll continue to be a talking point over the course of the season. I'm sure we'll check back in on it. In short: Zion made open threes against Ryerson, going 3/4.
Zion's athleticism likely causes issues of fluidity, as he can obviously get so much lift that it affects the synchronization of his feet and his hands. This might explain why he's reduced the movement in his lower body so that his feet stay under him and the barely-on-his-tip-toes lift that he gets makes it a little more consistent and controlled. I don't expect Zion to ever be much of a versatile guy, as a shooter. It lacks soft flight, arch and rotation, and frankly it's still looking flat, even though he's made some adjustments.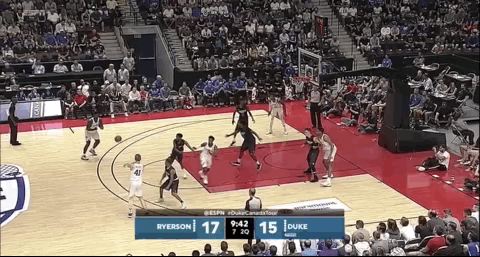 He also still lacks touch, and still looks like he's shooting the ball the left of his face. He seems like he'll always be an "I'm wide open so I have to" or "we're out of time and I have to" type of three-point shooter, and his lack of rhythm in this sense makes me wonder if he'll ever be much of a threat shooting in the midrange off the dribble. In this sense he really does remind me of Julius Randle.
He's Julius Randle with rockets for legs. Randle was a double-double machine in college. I expect the same from Zion at Duke. Let me know if you agree.
Twitter: @jkylemann
YouTube: The Dime Drop
Email: dimedrop.mailbag@gmail.com