Now Let's Get Worked Up Over RJ Barrett's First Two Games
Game two of Duke's Canadian tour pitted them against the University of Toronto, whose notable alumni include Malcolm Gladwell, among others. This is what happens when a couple of outliers make highlights against your alma mater, Malcolm.
Statistically, it was more of the same, as RJ Barrett and Zion physically overwhelmed the collegiate Canadians while playing the most minutes and taking (again, by a lot) the most shots. In game one against Ryerson, RJ and Zion put up 53 of Duke's 81 shots, and 42 of their 76 shots in game two against Toronto.
Since we focused on overreacting to Zion's herculean maiden voyage in the last video, we'll focus on RJ in this one. (Whispering) But I would just add really quickly that Zion was incredible again, as a rebounder, as a ball-handler, as a playmaker. Also had a couple plays in this one where he looked like Godzilla romping around and destroying cities for fun.
Nike, if you're listening, first of all you should hire me, and secondly this would be a fantastic time to bring back one of the best commercials of all time. Plus, there's a Godzilla movie coming out. C'mon, this is easy.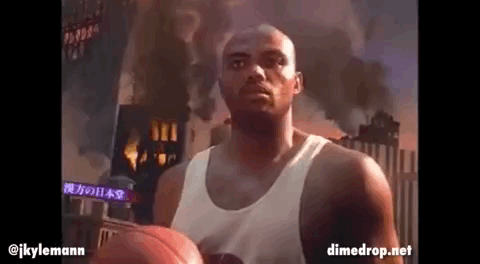 Anyway let's talk about RJ.
THE WING IN THE NORTH
RJ was much more patient and deliberate about taking good shots in this game, eliminating his tougher in-tight-space mid range pull-ups that dominated so much of his performance against Ryerson.
RJ is a lot like Zion in the fact that he often lacks rhythm when he's shooting off the dribble, which for Barrett seems to really bother his ability to transfer energy up through his body. When he's not taking his time, his feet don't seem to totally be under him, and it affects the flight of his ball and his accuracy. At times it looks like he's floating backwards or forwards just slightly, and it often affects the flight of his ball.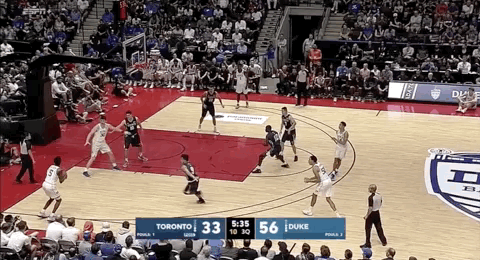 As a catch and shoot guy, Barrett's release isn't snappy quick (understatement), but the mechanical consistency is improving. He went 3-for-8 in this one, but he appeared to take his time on most if not all of them, and the touch looked more than sufficient. Some of these I would classify as "good misses," because they're within his wheelhouse and technique-wise these are well executed.
You live with 3-for-8 if you're Barrett, although he's taken eight threes in both of these games and I don't see him taking that many during the season. Some of that production will inevitably transfer to better looks for Reddish or Jones.
The shooting is a big fat pulsating question mark for RJ's ceiling. Improving but still highly questionable beyond taking wide open shots.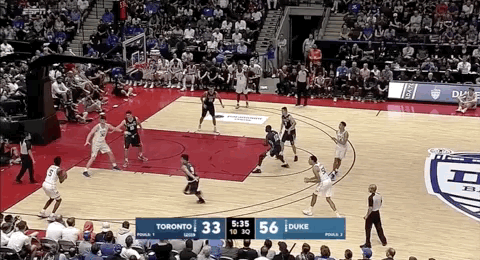 A PAIN IN THE LANE
The catch and shoot stuff is nice, and RJ's a more than capable passer, but his most frustrating-to-deal-with offensive skill is his penetration. He doesn't wow with slick one-on-one dribble moves in space, but RJ's footwork in the middle of the floor is really impressive, and really difficult to stop.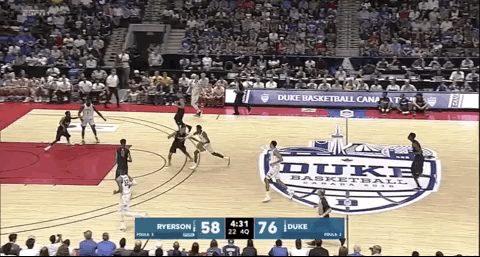 He just consistently finds ways to get there, and his deceptive strength allows him to just plow through guys off the dribble, like a running back who just keeps his feet moving. If he gets going to the left side of the floor in transition, it's pretty much over. No angle is too extreme, and he's very, very good at absorbing contact and making controlled finishes. Absorbing the constant physical pressure that he puts on you is one thing, but he's also nifty at euro-stepping around guys when they decide they're going to put all their weight into walling up on him.
RJ's size and vision will be a great tool for Duke this year, too, as he does have an ability to create once he's gotten in the lane. You don't catch any fish just standing on the bank. I made that up just now.
He's a far cry from the explosive athlete that Zion happens to be — which is something that you could say about, I dunno EVERY HOMO SAPIEN DRAWING BREATH IN THIS LIFE OR THE NEXT — but RJ's an above average athlete, and is fearless attacking the rim, although he's not going to just flat-out beat you by out jumping you. Not an effortless, fluid athlete, but more of an abrupt start-and-stop type of guy that has pretty decent top-end speed.
MUCHO MOTOR
Barrett's already got the physical tools to be a high-level defender, and at times he looks the part of a guy that could be a shut-down wing at the next level. I've said it in other videos, but he's a dogged, relentless player that just keeps coming.
It's worst kept secret in the world that RJ is very much an alpha personality. Really confident, really expressive and it's been said that he demands a lot from his teammates, maybe even a little bit hard to play with. But, hey, it's like I've always said: if you're good enough at something, people will tolerate you. If you stink, you'll be gone.
That said, he's a gamer in the truest sense.
I'm still working out who exactly I'd compare RJ to, but to me he's somewhat of a mix of Jalen Rose (because of his size and playmaking) and Andre Iguodala (because of his court sense and tireless physical nature). His ability to change directions mid-drive is very advanced, and with his long arms and wide shoulders, that motor can be tiring to constantly deal with.
So who would you take? RJ or Zion? How has the discussion changed for you? Does Coach K dye his hair? Is Grayson Allen the lovechild of Jeremy Renner and Ted Cruz?
Let me know. See ya next time.