Nifty, Crafty & Shifty: The Versatile EJ Montgomery
There's been a lot discussion recently about the unsigned EJ Montgomery, a nifty power forward originally from Fort Pierce, Florida that reopened his commitment after scandal broke out at Auburn. His decommitment will certainly hamper Bruce Pearl's chances to get the door named after him.
You can bet your unapproved cookout polaroids that this decommitment stung, primarily because of Montgomery's combination of ball skills and size. There's a lot to like, with plenty of areas for growth, and areas could greatly affect what ends up happening in EJ's career.

Let's get right to it.

A CURIOUS BLEND
As we've alluded, Montgomery is a long fella. More specifically, he's 6'10" with a 7'2" wingspan and he weighs a wispy 200 pounds, which is likely the necessity that caused his game to be as slippery and crafty as it is.
EJ is one of those prospects who was documented early. He's from a basketball family. There's a ton of footage of him the seventh and eighth grades, where he was rated as the #1 player in his class. He's come down the board a few slots since then, but he's still considered a top 10 player by most services. I say that to emphasize that he's been under the microscope for a while and continued to get better.
https://www.youtube.com/watch?v=H58f8UtqDnE
Other than being comically bigger than everyone else on the floor, it was clear here at any early age that EJ was uniquely skilled for a guy his size. Playing away from the basket, he's comfortable, and this is extremely evident in up-and-down situations like AAU or less execution-driven environments. His handle is fluid and steady, especially for someone likely to play the four, at least at the college level.

CAN HE KICK IT? YES HE CAN.
Montgomery 's court vision and awareness are particularly good (say it with me!) for his size. Sensing double-teams, sensing where he is on the floor, baiting defenders into committing to his drives... he has a high IQ for these types of situations, and that makes him a tough cover. He's a sleepy, slippery, gliding/coasting type of athlete that can be hard to read, and thus hard to guard. This is also heightened by his steadiness with the ball. He's a rare stretch four that throws in a healthy dose of court vision.
Both of these passes are so quick and on the money that the frame rate almost doesn't capture them. Got that 120Hz vision.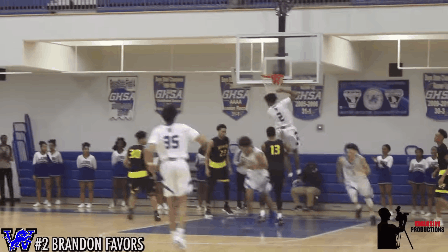 Another example of the shiftiness.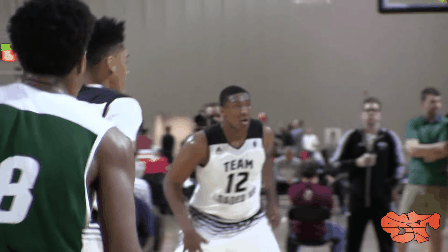 With shooters around him, he's devastating. This one is (Borat voice) very nice.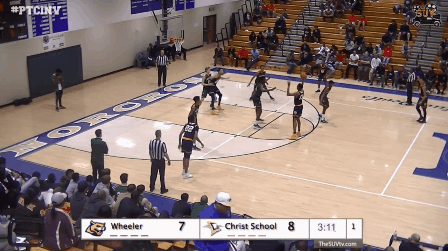 Imagining Montgomery on the floor with other high-level college players is really intriguing to think about, because of how much of his game will open up with other great scorers. It's more than just kick-outs from the post, too...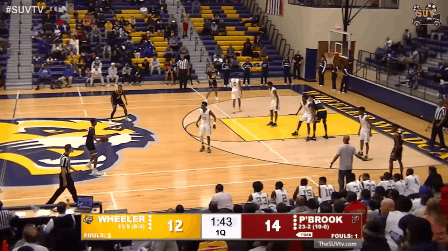 In the high-low, where I think he could really hurt teams in the future, from either spot.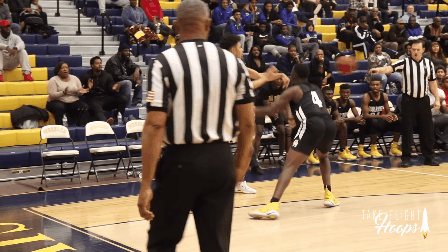 STROKE AIN'T BROKE
Listening to EJ talk, he seems to think of himself as a stretch four, and he's correct. A lot of times when you see guys of his size that have great vision, they're lacking as shooters. Not the case with Montgomery. You see him taking a lot more trips away from the basket when he's playing with the Atlanta Celtics as opposed to high school team in Wheeler, Georgia. Either way, the mechanics are nice, and the release is quick.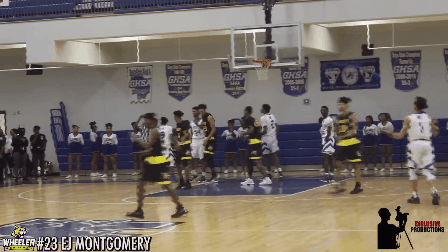 His potential to grow as a midrange shooter flattening out in the pick-and-roll is also promising.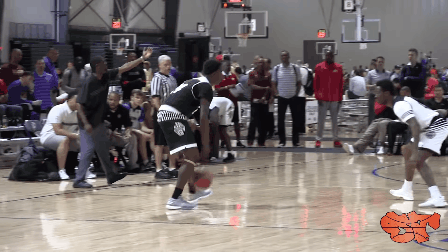 He has a tendency to float off of his spot when he's shooting off the dribble in the midrange, but he hits the shot at a pretty consistent clip.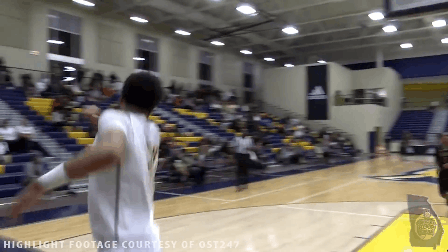 MOTOR NEEDS A LITTLE REVVING
For all of EJ's talents, he's not without room to grow. After watching a few extended stretches of tape, it does seem that he can become a bit disengaged on defense, and suddenly come to life on offense. Not unique for young players.
Watching as he sees his teammate lose position and not even attempting a weakside contest (this is in a regional championship game).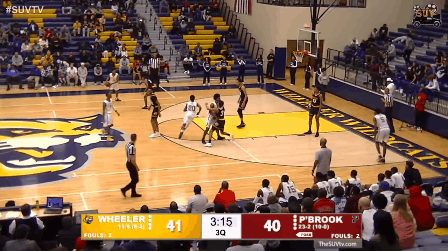 Again watching a driver go baseline and not rotating down.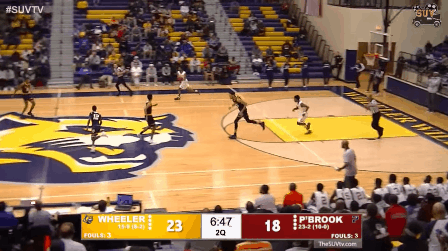 Semi-interested in hedging against the ball handler.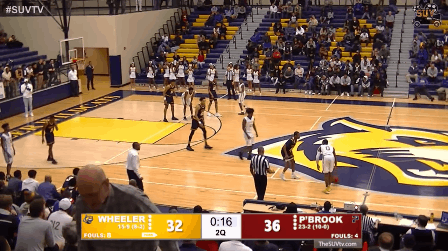 Getting lost in transition and losing a great shooter.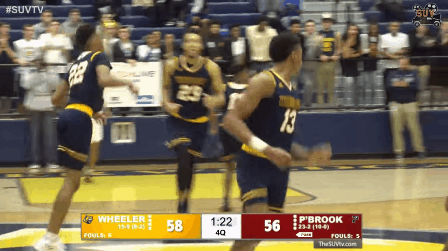 Granted, EJ is his team's best player and they need him to be on the floor. That said, attention to detail, footwork, and overall motor/activity on defense will need to improve for Montgomery to really excel at the next level. He's not an elite rim protector and I don't really expect him to become one, but there's no reason why he couldn't be a serviceable one with attention to those areas. Very few serviceable rim protectors offer what he does on offense.
This also applies to rebounding, where he's prone to just accepting being blocked out and allowing smaller players to keep him away from the basket. Can get caught watching the play at times. Adding strength will help, but motor doesn't require strength.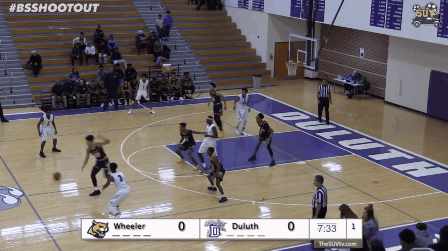 EJ MAKES 'EM PAY
If he's not zipping dimes out of the post, EJ is a pretty crafty back-to-the-basket scorer. He differs from Bagley and Wiseman in the fact that he doesn't try to one-step cram on guys, and his right hand is actually pretty reliable. Either hand, either block, high or low, he can make something happen, although he's much more of an angular post up scorer than those bouncy, explosive guys. Lots of tricks in the bag.
Left and then right: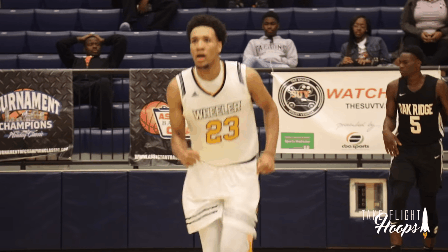 Right and then right some more: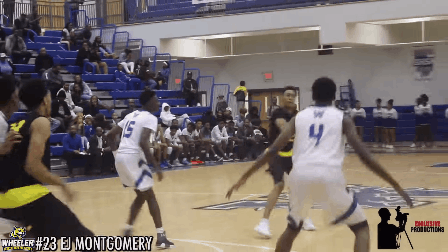 Feels the defender on his right, calls for it with his left, goes left, power dribble, reverse. Like I said, he's crafty.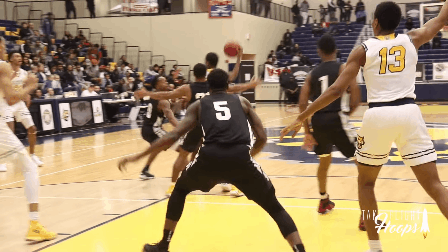 IT'S UP TO HIM
EJ projects as a four in college and a stretch four in the NBA, but the work he puts in during the next year and a half will be critical to that transition being successful. As a playmaking, back-to-the-basket player, his appeal is undeniable. But who does he guard? Will he wilt against the explosive athletes on the horizon? How much effort will he put in on that side of the ball? How active will he be on the glass? Does he have to be paired with an exceptional athlete in the front court on both ends of the floor to make his positives outweigh his negatives?
Is he a big wing with the ability to score around the rim, or is he a lean big guy that can drift outside and hit the occasional 15-25 footer? He'll have to avoid falling in the cracks between those two worlds, and it'll take some attention to technique and physique for him to stick in the NBA. For a player as intelligent and as gifted as Montgomery, I don't doubt that he can get there.