Sexton Makes Ya Feel Good: A Collin Sexton Deep Dive
Unless you've been pulling a David Khan and willfully turning a blind eye to talent, you're most likely aware that the 2018 NBA Draft class is Peter O'Toole-loaded. This class is laden with multiple legitimate candidates to be multiple time all-stars, and a few of those with the potential to ascend to All-NBA level and possibly compete for an MVP.
In this series, I'm going to be taking a look at the upper echelon of the class, and breaking down who I perceive to be the top pick and attempt to dial in what we'll likely see from them in the future.
*extreme Danny Zuko singing voice while alone in my house*
GREEEEEEAAASSSED LIGHTNIN'!
[Cue the first couple bars]
Folks, if you haven't met him, let me tell you about arguably the quickest muh fuh in the college game. I'm talking obviously about Collin Sexton – a 6'2" point guard that starred for the University of Alabama this past season under the watchful southern accent of Avery Johnson.
As a producer of music (soundcloud.com/jkylemann), I personally would love to have access to samples of the 15 million times Avery Johnson likely shrieked 'POH-EEEENNNT GWAAAAAARD' in practice this season in Tuscaloosa. I promise you they'd be used tastefully.
Best accent in the business. Anyway. Thumbs up, let's do this.
THE BOY'S FREAKY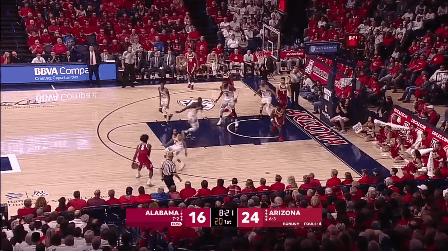 Collin is a few rungs above his coach in terms of God-given gifts (accents aside). He's in a category of athletic guard that you don't see tremendously often.
A brief moment to talk about a theory I've had for a while:
I've long thought that the primary thing that separates players into two groups is...
a) Are you a natural fit to the game of basketball? As in, would you be playing basketball no matter what shape or size you were?
b) Are you such a physical specimen that you were drawn to basketball because of the natural shortcuts you enjoyed?
With some guys, this dramatically impacts their development as players and can cause problems down the line when those shortcuts disappear. Darius Miles. Gerald Wallace. DeAndre Jordan. Michael Kidd-Gilchrist. Big guys naturally end up here a lot. You grow up big, you hang near the rim for a lot of your life, and thus your experience as a player hasn't forced you to expand your skill set. It's on the player to bridge the gap between their skill development and the genetic lottery ticket that they were handed.
You see some guys do well to reconcile the two. Donovan Mitchell I think is a great example. Kawhi is another. Russell Westbrook.
The problem with this player variety is that, without a lot of skill development, a lost step can mean a guy plummets out of the league, and quickly.
Sexton strikes me as a kid that has an evolving feel for the game for this reason. He's got some freakish measurements for his size. He's a bullish, wide-shouldered PG with a 6'6" wingspan and a crazy vertical leap, but he often reminds me of a Ferrari that's being driven by a kid trying to get his learner's permit. It's very possible that he was one of if not the fastest guy with the basketball in the college game this year. He's also a very impressive quick-twitch athlete.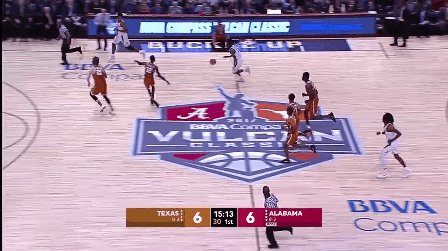 His physical tools are so outrageously good that he doesn't totally know what he's capable of yet on defense, and his patience to not lean totally on those tools is a work in progress.
WILLFUL BUT SKILLFUL
When I say Sexton leans on the fact that he's an impressive athlete, I don't want to go too far and make anyone think that he's a musclebound bully that just lives to dunk. He's much more than that. As a ball-handler, Sexton is steady and does a decent job of sizing up his driving lanes without trying to create things that are simply not there, although he does occasionally force the issue.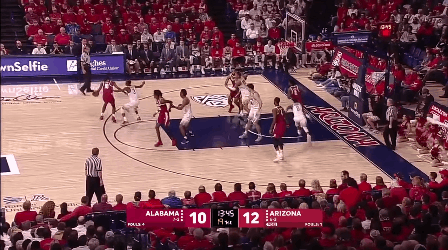 His wingspan does a lot to help protect his dribble. He gets nice and low so he can split traps or hedging pick and roll defenders. You also don't get the sense that he's out of control in the open floor, with the ball.
In this way he does summon memories of John Wall at Kentucky, where he would occasionally make two or three plays in a row that had you staggering backwards and putting your hand on your heart. He's not as long as Wall or De'Aaron Fox, but he does have that what-the-hell-just-happened speed. Wall gave people joint pain in college, just watching him. Seems like an endorsement opportunity for Icy Hot.
Sexton's shot from deep isn't terribly fluid or consistent – he shot 34% from three on four attempts a game this past year at Alabama, which is fine, but his mechanics seem to be more of the "push" variety than a soft release. It's a one-two shot motion without much of a soft touch, and can be a bit flat. That said, he also didn't lose sight of his strengths: he did average 19.2 points a game this year on 13.3 shots.
He loves to drag a switched defender wide and then attack the split.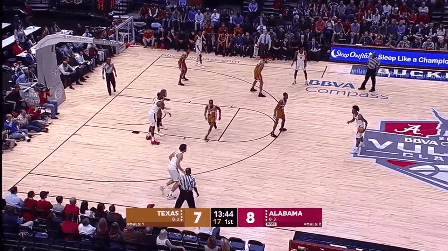 Right or left hand — although he does prefer his right.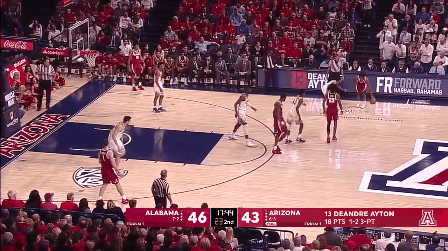 Very savvy with acrobatic finishes.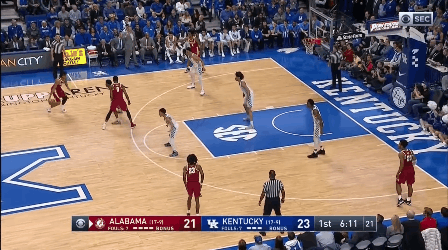 But he's getting more comfortable taking the three if the defense doesn't come anxiously enough.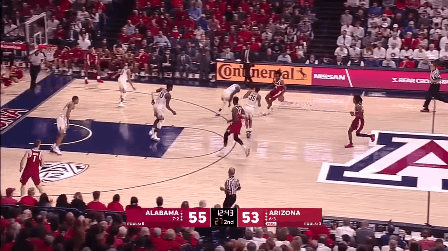 Last week I talked a lot about how Trae Young's ball dominance took away the flow of Oklahoma's offense at times. Sexton is less of a ball dominant playmaker and more of a ball dominant scorer. He's a capable passer but largely looking to get to the rim and score or get fouled, and he did those two things well this past season. He average eight attempts per game at a 77% clip. When he gets a step downhill, he's damn near impossible to wrangle.
A SEASON FOR EVERYTHING
A time for buckets. A time for corner threes. A time for doggish ball pressure. A time slithering into the lane and drawing a foul.
I think Sexton is a really, really intriguing prospect for the next level because of the ceiling that his physical tools gives him. His strength, length and on-court personality are typically shared with non-scorers. Similar energy guys like Patrick Beverley, Marcus Smart and Avery Bradley can score, but their impact is tough to replace because of their disruptive energy on the defensive end. Sexton has the chance to be a contributor on a good team early on both ends if he embraces the challenge of improving defensively and as a playmaker. Both elements could surface in his game, in my opinion, with some mental adjustment.
Learning more about defensive rotations so that he can be in better position to make plays.
Using his fantastic motor to become an absolute pain in the ass for ball handlers.
Altering his mentality to 'what can my athleticism get for my teammates' instead of 'how can my athleticism get me buckets.'

COMPCLOUD™️
Sexton has the *chance* to be among the best of the guys he's similar to — those explosive, smaller-built PG/combo guards, but it'll have to be the right situation for that to happen. I wouldn't say that he's an impact ingredient in every situation, at this point.
If I'm picking in the 8-12 range, I would give Collin Sexton a really long look, so long as I'm not totally desperate for shooting. The odds are good that whoever doesn't get the opportunity to pick Trae Young will likely spring for some Sexton or possibly Shai Gilgeous-Alexander. The problem I'm seeing is that there isn't really a great fit for Sexton in the top 12 picks. An ideal scenario for Sexton, in my opinion, would be as a second-unit spark on a team with a set identity. I worry about his rookie season being a little of a slog if he's depended on for significant offensive load.
New York, Philly, Cleveland and Chicago feel like logical options, and they'll likely be picking in that range, based on the numbers.
Either way, I do see Sexton having a long, productive career. How about yourself?