The Meteoric Rise of Shai Gilgeous-Alexander
Of the guys I've written about, I have probably seen Shai Gilgeous-Alexander play the most, and it's not close. Something to the tune of every single college minute. He popped onto the radar when he flipped his commitment from Florida to Kentucky, and joined a class where he was the lowest rated (although still highly rated overall) and possibly most mysterious prospect.
Shai's a smiley, wry-humored 19-year-old Canadian kid with great athletic genes. His mother, Charmaine, was a track star at Alabama and later competed for Antigua/Barbuda in the 1992 Summer Olympics. He's not freakishly big for a point guard, but definitely bigger than your average PG at 6-foot-6 and a wiry 180 pounds. He starred at Kentucky last year and saw his stock make a meteoric rise, from unranked all the way into the projected lottery.
The most jaw dropping and game-changing physical attribute going forward for Shai is his wingspan, which is a startling 7'0". He's basically a pterodactyl (first it was Marvel comparisons, now it's dinosaurs. I'm an eight-year-old I guess) in a jersey. Very few point guards have this kind of length.
PACE IN SPACE
I'm a really big fan of those slow-motion guys that lack explosive, elite athleticism and yet, somehow, inexplicably, cannot be kept out of the lane. Guys that use their space extremely well and find ways to get into their spots, regardless of what the defense tries to do to stop it. It's a big reason why I always loved Paul Pierce.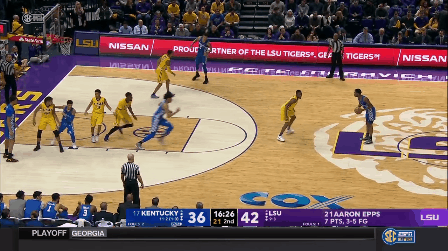 Shai Gilgeous-Alexander is one of those guys. He's a good athlete, he's just not bouncy or jaw-droppingly fast. He's methodical, steady and elusive off the dribble. For someone who gets to the rim as often as he does, he doesn't try to wow anyone with flashy one-on-one moves off the bounce. His handle will really need to improve as he progresses, but I still wouldn't expect that to change in the NBA.
He has a skill that you see in a lot of mature point guards in that he has a knack for keeping guys on his hip and dragging them all the way to the hole. Trying to keep Shai out of the lane is like trying to grab an eel in a swimming pool at night. One of the weirder illustrations I've come up with, but I stand by it, damnit.
This is huge for teams picking in the 7-12 range: Shai's also an exceptional pick and roll PG for a 19-year-old kid. At this point he's much more of a threat to score than to drop a slick dime, but it was fascinating to watch him grow in this respect. By the end of the year he solely had become the most unstoppable wrinkle in Kentucky's offense, when he made good decisions. When it's winning time, needless to say it's nice to have a steady 6-6 point guard that can pretty consistently score or get fouled out of a high ball screen.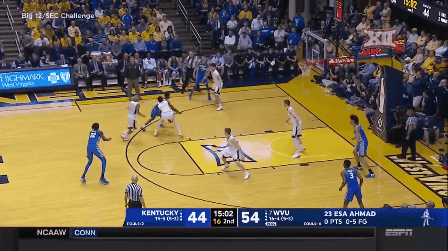 STAYS OUT OF REACH
Shai's measurements make him such an unorthodox player, and because of this he seems to always create a false sense of security for his opponent, on both sides of the ball.
As a defender, ball handlers can get thrown off by the length of his arms, making guys think that an otherwise safe maneuver might be risky. Passers might make what appears to be a normal pass within their offense and turn it over, because, whoops – Shai somehow, some way got a hand on that.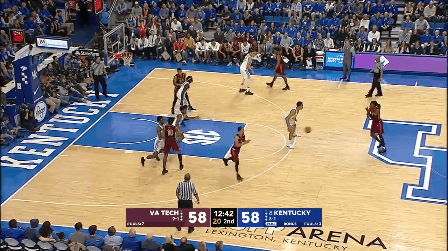 Shai's most consistently baffling skill for defenses this year — specifically for the shot blockers — was his ability to slither into the lane, seize a space that hitherto did not appear to be available, and make a layup. He finishes extremely well against length. Never anything overly complex, but Shai just made simple layups from both sides of the rim, with both hands. He's got more angles than Roger Deakins, and that's a result of that deliberate pace, ambidextrousness and that ridiculous wingspan.
He's like a drummer in a dope R&B band: he knows where his groove is and he does not let the context of the moment lure him into a pace that could cause mistakes.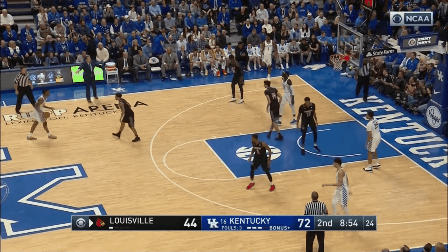 FLIP-SIDE IS THE DOWNSIDE
Every time you pinpoint an area of improvement for Shai, the common denominator seems to involve his speed and agility.
It's easy to see the advantages that Shai's style of play gives him, but there are some questions raised at the same time. Like I said before – he's not a quick twitch athlete, and you can see this in a couple of areas. He doesn't seem to elevate quickly, on either side of the ball. As a shooter, Shai does a sort of tip-toe shot that is a bit slow.
Granted, Shai doesn't force perimeter shots at all. Really he doesn't have a 'bad shot' bone in his body. He did shoot 40% from three (and 51% effective FG percentage) for the year, but pretty much all of his shots could stand to speed up.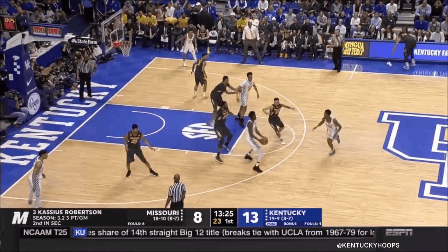 Shai's sleepy pace can also get him in tough situations as a playmaker. This could be pretty easily alleviated with some maturity as a decision maker, but at the next level I don't expect Shai to be a big-time scorer, so his value on the floor will hinge on his ability to not hurt his team in this sense. He projects, by my view, as more of a secondary guard with high-level scorers around him. The speed and the quality of his decisions will need to improve as he is exposed to more and more athletic competition.
We know that he can pretty effortlessly get in passing lanes (led the team in steals), and we know that he's exceptional at digging out post-ups, but Kentucky this year, much like Duke, struggled the entire year to defend penetration. Shai's got the ability to defend either position because of his size and length, but his agility will have to improve.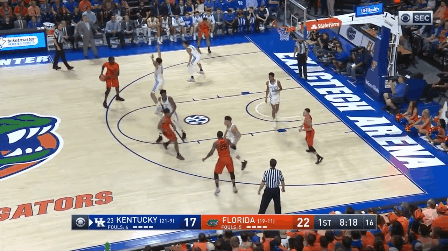 NO CHARACTER LIMIT
If personal-makeup matters to NBA teams (don't be alarmed, but it really does) you would have to think that Shai would be attractive. By all accounts, for the entire year, it was made clear that Shai Gilgeous-Alexander has an incredible work ethic. He's a great locker room guy and his teammates seem to love him.
From everything I've seen and read, he's also a very calming and steadying presence on the court. Much like his pace of play, Shai's on-court demeanor seems to be a real reflection of his personality. He's a competitor, but he seems largely unfazed by the moment. I've seen him time and time again have some of his best games on the biggest stages.
It'll be very interesting and a reflection of what teams value at the time, when we find out who between Trae Young, Collin Sexton and Shai gets picked first. Collin is easily the best athlete. Trae Young is lightyears ahead of Collin and Shai as a scorer and as a passer. But I really do believe that it's arguable that Shai could be the most ready to step into an NBA game right now and contribute. His potential to be a star might not be as high as the other guys, but Shai seems to have the fewest glaring holes among the three of them.
Shai brings so much to the table, and he doesn't need to score to be engaged in a game. For that reason, I could see him being an excellent additive for Philadelphia, Phoenix (if they can snag him with their other pick), Chicago, New York or Cleveland.
I'm not sure you can go wrong with any of them, but if I'm a team that needs backcourt dependability on both sides of the ball, and if I'm a team sees winning basketball in the very near future, I'd think Shai Gilgeous-Alexander would be near the top of my list.