Making Sense of the Enigmatic Kevin Knox
Kevin Knox is a wiry, nimble 6'9" streak-scoring small forward from Tampa, Florida that starred at the University of Kentucky this past season for John Calipari. He's a mild-natured, quiet but witty kid that comes from a tight-knit sports family: his mother was a D1 volleyball player at Florida State, and like Vernon Carey, his dad is a football legend in the state of Florida. He served as big play receiver for Heisman-winner Charlie Ward's at Florida State in the early 90s.
Charlie Ward would go on to the NBA and play for the New York Knicks, where he'd share a backcourt with Chris Childs, who once punched Kobe right in the Musecage. Really no reason to bring up Chris Childs punching Kobe… but I still did! Look at me go!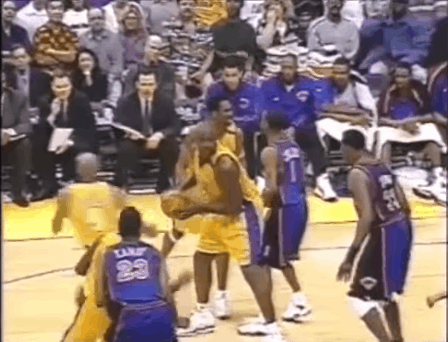 Kevin came to basketball full-time at about the age of 15, where in one weekend he went from almost totally off the radar to a five-star prospect. Prior to that he was a three-star dual-threat quarterback prospect, until he grew to 6'9" and decided that he would end up a mangled pile of limbs if he brought that size to high-level organized football. I think it was a good choice.
THE BUCKET LUST
On my channel I've deep-dived on the history of the stretch four and the cultural impact it had on the game. It's likely that we're seeing even more trickle down from that here. Kevin often lists Kevin Durant as his hero, and watching the way Kevin carries himself on the court, I think that's fairly apparent. I'm sad to report that Kevin is not as offensively talented as Durant (BURNED MY FINGERPRINTS OFF TYPING THAT HOT TAKE), but Knox is like Durant in the fact that he's extremely score-first, and he does pose some difficult challenges to opposing defenses.
Kevin shows glimpses of elite scoring ability off the dribble, both shooting the ball and getting to the rim but he's fairly inconsistent. He currently gets his dependable offense in two ways: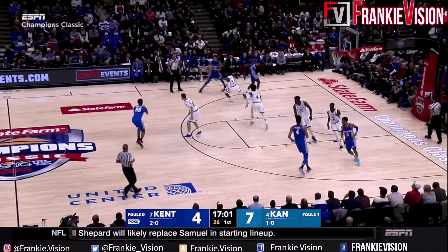 1. Catch and shoot. Seeing as Kevin has good size at 6'9", a nice, high release point and a 6'11.75" wingspan, he makes for a pretty formidable spot-up threat. His release has tightened up and quickened quite a bit in the past year, and I'm not sure that the percentages really reflect where Kevin is as a shooter, at this point. He shot 34.1% from three, 77.4% from the line and 51% in effective field goal percentage. At Kentucky you could see Kevin slowly start to understand what is and is not a good shot over the course of the year. It took until about the mid point of the season for him to realize that he was settling for some unnecessarily tough threes when he could be getting to the basket.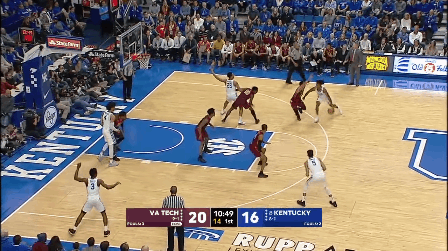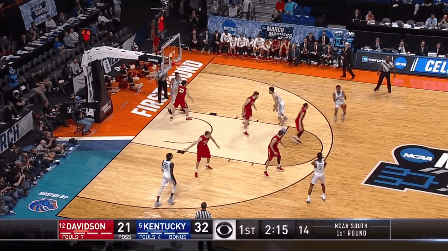 2. Floaters/runners. A floater is not always the most welcome sight in the world, (looking at you, water parks), but when Kevin Knox is involved, it's quite nice. This is probably the most difficult aspect of Kevin's game to defend. When he's being aggressive and attacking (something he struggled with in college) across the lane to the right side of the floor, his length and touch make his floaters deadly. Synergy Sports had Kevin in the 94th percentile shooting runners, scoring about 1.4 points per possession on those shots. Runners are a pretty trademark trait of a bucket getter.
If Kev can find a way to improve his ball security/ball handling in one-on-one situations in space, he could start to get those floaters for himself without relying on getting his number called. You can tell that Knox is still adjusting to life on the perimeter, because at times he really struggled to create offense on his own.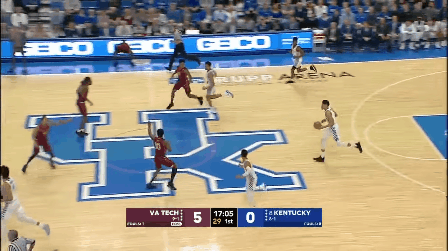 Kevin did not play college basketball with a lot of offensive creation around him. It was largely a roster of big forwards that finish, so this makes you wonder how much the up-and-down game of the NBA will liberate Kevin's offense going forward. There were also times where I wondered if they were playing through Knox enough: the high-water marks of their season (@West Virginia, @Arkansas, Missouri) were the games where Knox's usage rate spiked. I have to wonder if that's not a coincidence.
Because of this and Kevin's own shortcomings creating his own offense, his touches on the perimeter and forays to the rim often had to be set up by multiple off-ball screen actions. Kentucky had to make a conscious effort to keep him involved, otherwise he would have stretches where it seemed like he wasn't impacting the game at all. He shot a huge amount of his jumpshots off the catch or a single dribble if the defense crowded the catch, and he actually did a pretty good job making reads out of those situations if he couldn't get open — shot faking, gathering himself and making a midrange shot or hitting layups.
WINGING IT IN THE DRAFT
The popular debate that I've observed among NBA fan bases seems to typically involve Kevin Knox, Miles Bridge and Mikal Bridges. I think there are some key things to consider, when you're sifting through these guys.
Kevin is a distant third behind Miles and Mikal defensively. His anticipation and motor on defense are both lacking, and he doesn't get his hand on as many balls as he should, given his length. That's not to say that he won't improve, but Kevin struggles to guard quicker perimeter players at this point. He'll be the least switchable of the three and least likely to play meaningful playoff-type minutes early in his career.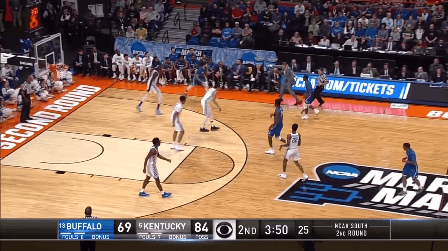 Kevin is also the least explosive athlete of the three and least physical. He doesn't attack the rim like Miles or Mikal, often looking to slide around guys on drives rather than put a tomahawk on someone's head.
That said, Kevin is probably the most offensively gifted and in my opinion has the highest ceiling as a dynamic scorer. I've said in another video that I think Mikal will be a capable shot maker, and I feel largely the same way about Miles — but neither guy is as fluid or shifty a scorer as Knox. He's got the softest touch and (this is something I'm sure people will argue) the most offensive upside of the three. He's just got great natural feel.
Lastly — and this could be huge — Kevin is the youngest of the three, by quite a bit. He was one of the youngest players in college basketball this past year and he's one of the youngest in the draft. There's a lot of runway ahead of him as he continues to grow as a player. Would you draft 19-year-old Mikal Bridges over 19-year-old Kevin Knox? That's a laughable proposition. Something to think about.
THE DUALITY OF KEVIN
That said, his need appetite for scoring does seem to be a bit at odds with temperament as a player. Does Kevin Knox plan on being an elite scorer in the NBA? Who is he, actually? His marginal to detrimental defensive impact going forward could only really be downplayed if he became such a high-level scorer that you could justify keeping him out there. Elite scorers in the NBA all seem to have an edge about them. A resilient, alpha dog mentality that says 'I've got some special shit in this bag, and you can't do anything about it.' Irrational self belief. I would love to see Knox get a little nastier, but who knows if that'll happen.
We've seen glimpses of it.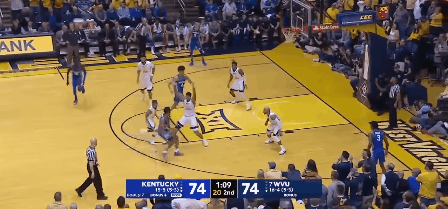 At this point I see Kevin as a Harrison Barnes type of personality — lots of offensive ability, but a temperament that could keep him in the range of a second to third option on a decent team. That'd be a respectable outcome for Kevin, but it'd be fun to see him stop deferring and go full Walter White and say 'look, I am the danger.'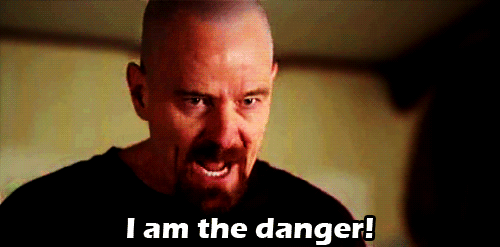 There were times this past season where he definitely could have said 'get on my back' to his Kentucky teammates and he either couldn't or wouldn't.
For me, the factors limiting Knox all seem to revolve around his demeanor and hard wiring as a player and his build. Knox isn't just score first. He's currently score only. Unless he gets that alpha edge, this basically cannot continue to be a thing for him, if he hopes to be a star or even a valuable asset in the NBA.
If you're going to be a specialist in the NBA, you can't let your speciality dictate your effort on both ends of the floor, otherwise you'll be a specialist that doesn't play. The worst case scenario for a team looking at Knox is that you get a guy who is a potentially negative defender that has to have his number called a lot in order to stay engaged in the game. That's not typically how you look to use a top ten pick. I don't expect that to be Kevin's fate at all, but without evolution in his game, that's certainly on the table. This'll be equal parts emotional maturity and staying active on the glass, taking defense personally, and proving that he can create for himself and his teammates when it's called for.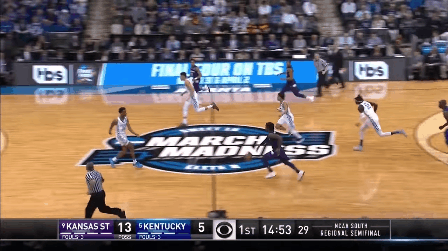 To me, Kevin's tippy-top ceiling is somewhere in the vicinity of an all-star game or two with a decent team or a likely third option on a good team. He's a guy that, if he can defensively stay on the floor, can score in a variety of ways when he's at his best.
The potential for Kevin to grow into a high-impact player in the NBA is there, but it'll come down to a given team's risk tolerance when deciding whether he's that future all-star or a supporting cast guy that can semi-dependably get you buckets. If their concerns are like mine or more severe, I could see Kevin sliding a bit. If they see those raw tools and take figure that this kid could really grow into something special, they might go ahead and snag him in the 5-10 range. Personally, I lean somewhere in the middle.
Twitter: @jkylemann
YouTube: The Dime Drop
Email: dimedrop.mailbag@gmail.com